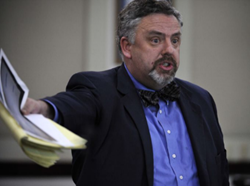 NASHVILLE, Tennessee (PRWEB) September 28, 2015
Chris Keaton is proud to announce the signing of Fletcher W. Long, renowned defense attorney, public speaker and radio host to a global representation agreement.
"I am thrilled and invigorated to begin this new chapter of my career in a vocation with limitless potential," says Long. "I have picked the perfect partner with whom to travel this path. I am humbled and blown away by the opportunity to work with Chris Keaton."
After recently ending a successful 18-year legal career, Long has transitioned into a formidable radio talk show with "The Long Version" on WJZM-AM (Clarksville, TN). The show airs daily Monday through Friday from 9 a.m. to 11 a.m. CDT. Long likens himself to G. Gordon Liddy and Oliver North, who also made the jump to talk radio.
"I have done radio before, so it seemed like a natural progression," says Long. "I am still getting paid to talk."
Keaton adds, "This is an incredible opportunity for me. Fletcher Long is an amazing talent with a personality which the public deserves to hear!"
Long became well-known as an attorney in criminal cases defending former football player Brandon Vandenburg in the high-profile Vanderbilt rape trial (Davidson County Case #2013-C-2199) and Jason Autry, one of the three men charged in the Holly Bobo murder case (Decatur County Case #14CR20).
Chris Keaton Presents is a next-generation Nashville based entertainment company that manages recording artists, songwriters and media personalities.
For more information, contact:
Chris Keaton
Chris Keaton Presents
chris(at)chriskeaton(dot)com
(615) 750-3883