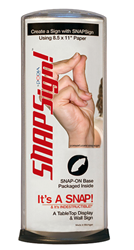 SnapSign offers a much cleaner and more modern approach than the standard 8.5" x 11" marketing flyers we were previously utilizing. Jeremy – Corporate Chefs, Haverhill, MA
Kalamazoo, MI (PRWEB) September 28, 2015
SNAPSign is an indestructible, extruded, clear polycarbonate capsule designed specifically for use with a single 8.5" x 11" piece of paper. Users can easily design signage or tabletop displays on their computers, print, fold (vertically) and insert the single sheet into the re-usable capsule to instantly hang or display. SNAPSign is a display with a Wall Mount hook built into the base. PODIA is the trade name of the original indestructible capsules designed by Consort Display Group which are presently used in the hospitality industries. This product is EcoFriendly (100% recyclable) and made exclusively in Michigan. Consort President Roger Lepley describes SNAPSign as "the perfect display tool for the digital age."
"Based on consumer response to this product's initial use as PODIA – especially in restaurants – we believed it was time to extend awareness of this unique product to another highly visible and creative sector, the signage industry." said Roger. He added, "We expect other markets to begin using SNAPSign as well. It's uses are virtually unlimited because it's a very versatile product. Higher education is a good example, we just re-filled a large order from Harvard University where this innovative capsule has been used creatively in a number of campus locations including the freshman lunch hall."
About SNAPSignTM
SNAPSign is the newest member of the product line. Like it's predecessor, SNAPSign was specifically created to make perfect use of computer technology and fit seamlessly into our rapidly changing world of user-created, on-demand products and services. SNAPSign enables virtually anyone to create highly visible signage using this simple, indestructible, reusable communications tool. SNAPSign is great for Sales, Menus, Photos, Events, Weddings, Promos, Products, Birthdays, Signage...and more. Users can create two-column layouts on their computers – print, fold and insert for an instant tabletop display or wall sign (by slightly prying up the bracket inside the capsule base) and sliding the capsule over a nail or screw in the wall. SNAPSign is an EcoFriendly, GREEN Product • 100% recyclable • Made in Michigan/USA.
For maximum user benefit, Consort Display Group will offer a dynamic assortment of online templates and pre-designed signs and display messages to further support SNAPSign – free to download by visiting snapsign.com – (or consort.com/snapsign).
For more information on SNAPSign please visit http://www.snapsign.com
For information (and/or questions) about other Consort display products please visit –
http://www.consort.com or call (800) 525.6424.