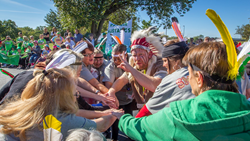 "I've never experienced anything like that before – I'm so glad I did!" – Resident, Signature HealthCARE of Cherokee Park
Louisville, KY (PRWEB) September 28, 2015
Months of training culminated last week for dozens of nursing home residents and staff members who participated in Signature HealthCARE's fifth annual Senior Olympics games.
Teams from 38 nursing and rehabilitation centers across Florida, Kentucky and Tennessee participated in regional Senior Olympics events held simultaneously at various locations in different states. The Signature Senior Olympics games were designed to promote fitness, fun and friendly competition among senior citizens, and serve to give participants a sense of accomplishment and self worth. Team trophies and individual medals were awarded to event winners.
Residents commented that they were surprised how many residents participated, and that they enjoyed having the facilities together.
"It was great to see all the camaraderie among the different centers," said Jorge Ferrandiz, a resident at Gulfport Rehabilitation Center, near St. Petersburg, Fla. "I had so much fun with all the cheerleaders from Gulfport – we had a lot of them!"
A total of 11 teams from nursing centers across Central Kentucky gathered at Signature's Louisville home office to compete in the games, which included basketball, a bean bag toss and more. Special celebrity guest judges included state Rep. Denny Butler; Louisville Metro Councilman Stuart Benson; Chris Redman, former quarterback for the University of Louisville and the Baltimore Ravens; Coach Bob Redman, who led Louisville Male High School to three state championships; Roger Burkman, a member of the 1980 University of Louisville NCAA men's basketball championship team and former player for the Chicago Bulls; and Mike Pratt, a former University of Kentucky and Kentucky Colonels basketball player.
"I've never experienced anything like that before," said Martha Cooner, a resident at Signature HealthCARE of Cherokee Park. "I'm so glad I did!"