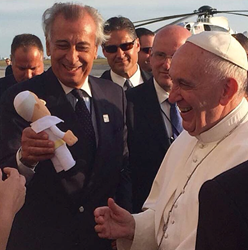 We're beyond thrilled and honored to have seen the Pope's delighted reaction to his Bleacher Creatures plush figure—that's the greatest testimonial we could ever receive, to see him smiling from ear to ear
Plymouth Meeting, PA (PRWEB) September 28, 2015
It was a moment of pure joy as Pope Francis arrived at New York City's JFK airport, following his historic address to Congress: A schoolteacher reached out and handed His Holiness the Bleacher Creatures plush figure that captures his genial likeness with uncanny accuracy. The Pope smiled broadly, blessed the doll, and waved the plush to photographers.
As the Brooklyn schoolteacher told NBC New York news: "I saw his whole face light up. It made his day, I think. It made my day, and our whole school is so proud right now." The doll had been sent to schools by the Catholic Television Network.
"We're beyond thrilled and honored to have seen the Pope's delighted reaction to his Bleacher Creatures plush figure—that's the greatest testimonial we could ever receive, to see him smiling from ear to ear," said Matthew Hoffman, CEO and founder of Bleacher Creatures. "The Pope's interaction with his plush figure goes straight to the core of our brand: Our product makes you happy, makes you smile, and encourages fun, inspiration and play."
The world's beloved pontiff, who has made history in a variety of ways, set a new benchmark recently: The Pope plush collectible has become the best-selling plush figure on the Bleacher Creatures website, http://www.bleachercreatures.com. Introduced for pre-sale in April, the Pope plush has sold more than 50,000 units in just five months—outstripping every other plush icon in the Bleacher Creatures line-up, including the top athletes in professional sports.