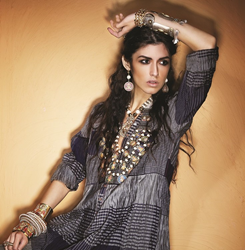 Pure Elegance offers an ideal environment for our growing South-Asian customers and allows them to experience the best Amrapali has to offer
New York, NY (PRWEB) September 30, 2015
In a major development today, India's luxury jewelry brand Amrapali formed a key alliance with America-based South-Asian fashion brand, Pure Elegance, to distribute their Silver jewelry line from its retail store in New Jersey. This is one of the first such transcontinental collaboration by a major Indian luxury brand to reach out to the Indian diaspora in US directly.
From designing an exquisite crown for Harrods in celebration of the queen's diamond jubilee to crafting special pieces for royalty and celebrities, Amrapali has come a long way from its humble origins in Jaipur nearly forty years ago. Known as the jeweler to the stars, Amrapali Jewels has caught the attention of the world by delving into the rich heritage of Indian craftsmanship.
Amrapali is an aspirational brand needing more physical experience than what traditional online channel or India-based retailers could offer to the Indian diaspora living in US. "We are very happy to offer an important touchpoint for our customers in New Jersey" said Rajiv Arora, Co-Founder of Amrapali. "Pure Elegance offers an ideal environment for our growing South-Asian customers and allows them to experience the best Amrapali has to offer" added Rajesh Ajmera, Co-Founder of Amrapali.
This alliance also furthers Pure Elegance's position as the leading luxury South-Asian fashion brand. "We are very excited to bring exquisite designs from Amrapali to our elite clientele" said Parna Ghose, founder of Pure Elegance. "Their flawless craftsmanship and unique, unforgettable pieces perfectly complements our exclusive clothing line" adds Parna.
About Amrapali: Created by two post graduates of Ancient Indian History and Culture, Amrapali is the only Indian jeweler ever to exhibit at the Fine Jewelry Room at Harrods, London, retailing alongside brands like Cartier and Tiffany. Amrapali is recognized as the epitome of handcrafted Indian fine jewelry, with admirers in Bollywood to Hollywood ranging from Deepika Padukone, Anushka Sharma, Angelina Jolie, Penelope Cruz, Rihanna, Halle Berry, Jennifer Lopez to name a few.
About Pure Elegance: Pure Elegance is a leading South-Asian fashion brand in US. Pure Elegance makes India-inspired fashion that balances trends with tradition. It is the only South-Asian brand from US to get invited to major international fashion shows and luxury events and dressed many celebrities and dignitaries. With nearly half-a-million Fans on its Facebook page, Pure Elegance is the most recognizable South-Asian fashion brand in US.