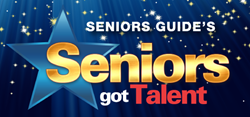 We're just blown away by these contestants
Richmond, Virginia (PRWEB) October 01, 2015
Over the sound of an acoustic guitar, a beautiful beach scene fades out to reveal a cowboy-hat-wearing singer, belting out a heartfelt ballad reminiscent of Willie Nelson. No, this isn't the intro to a new video on CMT. This is Terry Dean Harder's video submission to "Seniors Got Talent," the annual competition hosted by Seniors Guide.
Every summer, Seniors Guide invites residents at independent living communities, senior friendly apartments, assisted living communities, active adult communities and nursing homes to submit videos that showcase their unique skills. All contestants are eligible for cash prizes up to $1,000. Potential contestants have until November 10 to submit. The winner is determined from online votes at the contest's website
While Terry Dean Harder's submission expertly tugs at heart strings, other submissions have aimed right for the funny bone, like Amber Manor's video rendition of the hit song "She Thinks My Tractor's Sexy" or the song "I Can Compute," Leland Senior Center's play on R. Kelly's "I Believe I Can Fly."
"Every year, we think there's no way the next flock of videos will be able to top the last," says Katharine Ross, Vice President of Seniors Guide. "But these talented seniors keep proving us wrong! And this batch of musical videos is just the latest example of that tradition. We're just blown away by these contestants."
For more information, check out the rules and regulations at http://www.seniorsguideonline.com/seniors-got-talent-contest-rules-regulations. And check out the videos at SeniorsGotTalent.com and vote once a day between now and December 31. The winners will be announced in January, when they can claim their cash prizes!
Seniors Guide, a Richmond, Va. -based company publishes Seniors Guide magazines throughout Cincinnati, Ohio; Columbus, Ohio; Dayton, Ohio; Indianapolis, Indiana; Raleigh-Durham, North Carolina; Richmond, Virginia; and Roanoke-Lynchburg, Virginia and features a correlating website of SeniorsGuideOnline.com. Seniors Guide's mission is to help seniors and their families find the information they need on options available in senior housing, senior care, assisted living, independent senior living, retirement communities and other retirement living needs. Seniors Guide also has resources at http://www.HomeCareChoice.com for Cincinnati, Ohio; Columbus, Ohio; Dayton, Ohio; Raleigh-Durham, North Carolina; and Richmond, VA. Ross Publishing, Seniors Guide's parent company, began in 1991 and has been publishing helpful, free publications and websites ever since.