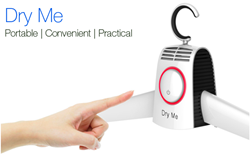 We wanted to create a gadget that helps those who are on the go and sometimes get stuck with wet clothes and shoes
Chicago, IL (PRWEB) October 01, 2015
Dry Me, the portable clothes dryer that can dry shoes, shirts and pants, today launched its crowdfunding campaign on Indiegogo.
Dry Me aims to solve problems faced by travelers around the world, working professionals, fitness buffs and moms, with the launch of its portable Hang Dryer gadget that quickly dries clothes and shoes. Dry Me is also compact for easy storage in a bag or suitcase.
"We wanted to create a gadget that helps those who are on the go and sometimes get stuck with wet clothes and shoes," said Ravi Yerra, founder of Dry Me. "It's great for travelling since it's lightweight, detachable, and easy to assemble and can be used for drying, storing, warming and disinfecting."
Dry Me first enters hot air mode working continuously and then it automatically converts to air cooling mode. Dry Me consumes significantly less energy compared to traditional clothes dryers and helps to eliminate odors caused by perspiration and bacteria, most notably in shoes.
Dry Me adopts Thermo Positive Temperature Coefficients (PTC) that are specialized heating elements that enable superior heat transfer in a small space. Made from an Advanced Ceramic Heating Material, PTC heaters enable safe, powerful, and energy efficient heat transfer.
"Not only will Dry Me help clothing items stay dry, it can eliminate bacilli with high temperatures," added Yerra. "The device is also relatively quiet when drying - less than 30 decibels."
Dry Me's high quality Acrylonitrile Butadiene Styrene (ABS) is fire retardant, strong, durable and safe to use. The drying gadget incorporates ionization technology to remove contaminants like viruses and mold that can cause skin irritation and deterioration of materials.
Dry Me will start at $79 on Indiegogo and the first batch of backers will receive Dry Me by January. For more information visit: https://www.indiegogo.com/projects/dry-me-portable-clothing-shoe-hang-dryer#/
About Dry Me
Dry Me is a Chicago based startup focused on developing creative lifestyle products. Founded by, Ravi Kiran Raju Yerra who is a serial entrepreneur with 17+ years of experience in designing, delivering, mentoring, managing & executing.
Dry me aims to solve problems faced by travelers around the world, working professionals and moms with the launch of their Hang Dryer. The team includes professional ergonomic design experts with a knack for making products, processes, and interfaces simpler and visually appealing.