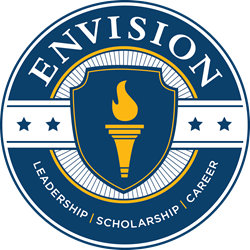 I learned so much about business and am so grateful for this experience.
Vienna, VA (PRWEB) October 01, 2015
Envision is proud to team up with Wishbone.org to help expand educational access for students. Wishbone is a non-profit fundraising platform that gives all students the chance to pursue their passions. Envision sponsors deserving students with Wishbone scholarships, allowing them to attend leadership or career-readiness programs that help them follow their dreams.
Wishbone scholars had memorable experiences at Envision programs this summer and learned many new things through participation in the National Youth Leadership Forums. Here are some of their stories.
Melissa N. is a tenth-grader from San Lorenzo, CA. She attended the summer 2015 National Youth Leadership Forum on Business & Innovation. "At my business program, we worked with a computer software that we would be selling. First, we created the software. After that, we had to make a presentation explaining the different aspects of the software, which we later presented in front of investors. It was really fun because we had the chance to earn our own money and create the business. I learned so much about business and am so grateful for this experience."
High school junior Eric P. from Richmond, CA, attended the National Youth Leadership Forum on Engineering & Technology this past summer. "Before this summer program, I was nervous and afraid that I was not going to fit in with all the rest of the students in the program, but then after a few days the people in my group became like a little family and we all got along with each other. Throughout the program, there were times where I thought to myself, 'I'm not smart enough for this,' but I got through it successfully and I really enjoyed the experience I had at the program."
Alondra C., a San Jose eleventh grader, had this to say about her experience at the National Youth Leadership Forum: Digital Media, Film & Journalism: "On the first and second days we went to the New York Film Academy and I got to work with a team of three other scholars along with an Australian news reporter to create a newscast that we wrote, filmed, and edited. We got to film in the Universal Studios back lot, which was a once in a lifetime opportunity. The rest of the week we worked on a digital publication of a magazine. Seventy-four students were divided into three groups, and we all competed to see who could publish the best magazine. The theme of my group's magazine was the transition from teenage years to adulthood and life after high school. We included articles covering topics that high school doesn't touch on, such as how to file taxes, register to vote, apply for a job and dress for an interview. My group won! We published the best magazine thanks to our incredible team work and years of experience with writing and editing, which most of us had prior to attending the program. I met wonderful people and made a group of friends that I will forever be thankful to have met. NYLF gave me the opportunity to meet successful journalists and learn more about a career that has interested me for many years. Once again, I want to thank all of you for helping me be a part of this program and for supporting me in my dreams."
Envision is very pleased to be able to help Wishbone students to attend National Youth Leadership Forum programs and hopes to continue to do so during the summer of 2016.
The Envision family of programs (http://www.envisionexperience.com) enable students of from elementary school through college to explore their interests and experience learning beyond the classroom. Since 1985, Envision programs have served more than 500,000 students from more than 145 countries, with programs designed to help students develop the leadership, scholarship and career skills needed to succeed in today's competitive college and career landscape.