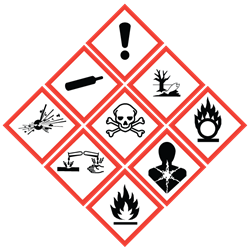 "Today's labeling must be both dynamic and data-driven to maximize flexibility, ensure accuracy without replication of data, and provide speed and scalability to meet GHS labeling standards."
Portsmouth, NH (PRWEB) October 01, 2015
Loftware, Inc., the global leader in Enterprise Labeling Solutions, today announced availability of a report highlighting the state of readiness in the chemical industry for the Globally Harmonized System of Classification (GHS) and OSHA's Hazard Communication Standard (HCS). GHS, which was first adopted back in 2002 by the United Nations, was designed to ensure safe production, transport, handling, use and disposal of hazardous materials. Following GHS, HCS was later introduced by OSHA to bring US regulations into alignment with the international guidelines. The survey, which polled approximately 150 professionals from global chemical companies, including regulatory, supply chain, operations and IT, was conducted to determine whether or not companies are managing to meet the complex set of requirements for the labeling of chemicals and chemical products defined by the GHS.
The report showcases that of all the companies impacted by GHS regulations, less than half (45%) were able to meet the recent June 1, 2015 deadline for compliance. Additionally, 65% need at least another 6 - 12 months before they will be able to meet compliance. Loftware's survey indicates this is largely due to a lack of awareness regarding the specific requirements, with over 43% of those polled reporting awareness as a major obstacle in meeting GHS labeling requirements.
"With GHS, companies face more regulations in chemical labeling than ever before and it seems clear that the majority of companies still don't have the correct labeling systems in place to accommodate this new level of complexity," stated Loftware Industry Manager, Deborah Grant. "Today's labeling must be both dynamic and data-driven to maximize flexibility, ensure accuracy without replication of data, and provide speed and scalability to meet GHS labeling standards," she added.
Now that the deadline has passed, businesses continue to face obstacles. Nearly two-thirds (59%) of respondents answered that they are still not able to meet all six of the necessary elements of a GHS label. And, the results of non-compliance are considerable with 72% of those surveyed believing the inability to meet these standards may result in loss of customers, regulatory and customer fines, disruptions to their business and delays in the supply chain.
Of those respondents that have yet to complete their requirements, 35% report a need to still configure their barcode labeling software solutions; 32% need to ensure enterprise applications have the necessary data and 24% have yet to finalize their business plans for GHS labeling.
To get a copy of the full GHS Readiness Survey Report or to offer the report to your readers, please go to GHS Survey Report or to find out more about how Enterprise Labeling can help companies meet GHS requirements go to Loftware's GHS Solutions Page.
About Loftware
Loftware, Inc. is the global market leader in Enterprise Labeling Solutions with more than 5,000 customers in over 100 countries. Offering the industry's most comprehensive labeling solution, Loftware's enterprise software integrates SAP®, Oracle® and other enterprise applications to produce mission-critical barcode labels, documents, and RFID Smart tags across the supply chain. Loftware's design, native print, and built-in business rules functionality drives top line revenue, increases customer satisfaction, and maximizes supply chain efficiency for customers. With over 30 years of industry leadership, Loftware's Enterprise Labeling Solutions and best practices enable leading companies to meet their customer-specific and regulatory requirements with unprecedented speed and agility.
###