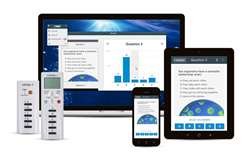 Our hybrid approach demonstrates our deep understanding of the different needs across campuses and our clients have been invaluable by providing feedback, participating in early adopter programs and allowing us to test product innovations in classrooms
New York, NY (PRWEB) October 02, 2015
In the first-ever higher education "gear of the year" guide, Campus Technology turned to hundreds of education professionals for honest input regarding EdTech products in 29 categories to crown the best solutions in the market.
Covering the gamut of technology from 3D printers to wireless access points, every category offered platinum, gold and silver picks to help educators create a short-list for product evaluations and fuel decision-making.
i>clicker, and its reputable technology was the first place winner in the student response system and classroom clicker category.
The company's unique approach to serving busy educators with reliable solutions is well known as i>clicker supports over 200 standardizations in North America and its products are being used across 1,100 institutions. A thoughtful hybrid strategy allowing both mobile devices and clickers to be used alongside each other in the same classroom helps bridge the transition of technology adopted and supported at any institution.
REEF Polling, the mobile-optimized engagement system developed by the i>clicker team is gaining in popularity and is one of the main reasons i>clicker was chosen as the best solution in its category. A free app for instructors can be set up in under two minutes, allows dynamic polling sessions with any presentation application, and does not require users to import content first. With REEF Polling, students choose to use any smart device or i>clicker remote to participate in class and can access session history as a study guide.
"We're thrilled to have been chosen as the best student response system by an objective audience including higher education IT and administrative decision makers who are looking for ways to elevate engagement in their classrooms and are currently working through challenges around BYOD," said James McNamee, Director of Marketing at i>clicker. " Our hybrid approach demonstrates our deep understanding of the different needs across campuses and our clients have been invaluable by providing feedback, participating in early adopter programs and allowing us to test product innovations in classrooms."
REEF Polling is the first of many new solutions being developed on the REEF Education mobile engagement platform. The mobile-optimized products and services will provide learning tools needed to increase engagement, facilitate communication and help administrators better understand activities going on at their campus and in their classrooms.
About i>clicker:
i>clicker was built by educators for educators with the goal of keeping students focused on content, not technology. i>clicker is the most widely used student response system in North American higher education, adopted at more than 1,100 institutions and used by more than one million students.
i>clicker's student response system continues to be recognized for its superior reliability, intuitive software, and focus on formative assessment and pedagogy. Today, i>clicker is powered by flexibility giving professors the choice to standardize with one remote, or take a blended approach of mixed mobile and conventional remotes in their classrooms.