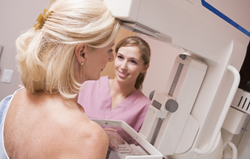 Our approach is to apply appropriate guidelines, but also recognize that individual patient needs and preferences must also be considered and respected." --- William Stanton, M.D., Scripps Health
SAN DIEGO, Calif. (PRWEB) October 02, 2015
October is National Breast Cancer Awareness Month and the debate continues in the United States regarding appropriate guidelines for breast cancer screening. After extensive review and discussion, the Scripps Breast Cancer Task Force recommends that women continue to follow the same screening mammography guidelines supported by the American Cancer Society (ACS), with added consideration of individual patient risk factors and preferences.
The ACS recommends annual screening mammography beginning at age 40 and continuing as long as a woman is in reasonably good health and a candidate for treatment. The debate is whether to begin mammograms at age 40 or 50, and at what frequency. In general, women younger than 50 are at a lower risk for breast cancer. There is an increased risk of breast cancer as women get older.
The Scripps Breast Cancer Task Force's expanded guidelines for breast cancer screening for average risk patients are as follows:
Monthly breast self-exams beginning at age 20
Annual clinical breast exams with a physician or other health care practitioner
Baseline mammogram and risk assessment at age 40, followed by the opportunity for annual screening mammograms
(70 to 80 percent of newly diagnosed breast cancer cases have no significant family history)
Discussion of an individual patient's situation, needs and concerns with a physician can help assess if a woman is at greater risk of developing cancer, where different guidelines may apply.
A screening mammogram is a first step to breast health. After a patient's risk is determined, next steps include developing an individualized screening program based on a patient's risk and their feelings and preferences in regard to their risk level and screening tests.
One of the tools available to assess risk levels is the National Cancer Institute (NCI)'s Breast Cancer Risk Assessment Tool at: http://www.cancer.gov/bcrisktool/.
"The debate continues across the health care industry about appropriate screening. Our approach at Scripps is one where we apply appropriate guidelines, but recognize that individual patient needs and preferences must also be considered and respected," said William Stanton, M.D., chair of the Scripps Integrated Network Cancer Program.
Scripps will continue to review and evaluate new data on breast cancer detection as it becomes available. As always, Scripps will keep patients' best interests at the forefront of any recommendations regarding screening mammograms or new methods of early detection of breast cancer.
ABOUT SCRIPPS HEALTH
Founded in 1924 by philanthropist Ellen Browning Scripps, Scripps Health is a nonprofit integrated health system based in San Diego, Calif. Scripps treats more than 600,000 patients annually through the dedication of 2,600 affiliated physicians and more than 15,000 employees among its five acute-care hospital campuses, hospice and home health care services, 28 outpatient centers and clinics, and hundreds of physician offices throughout the region.
Recognized as a leader in prevention, diagnosis and treatment, Scripps is also at the forefront of clinical research, genomic medicine and wireless health care. With three highly respected graduate medical education programs, Scripps is a longstanding member of the Association of American Medical Colleges. Scripps hospitals are consistently ranked by U.S. News & World Report among the nation's best and Scripps is regularly recognized by Fortune, Working Mother magazine and AARP as one of the best places in the nation to work. More information can be found at http://www.scripps.org.