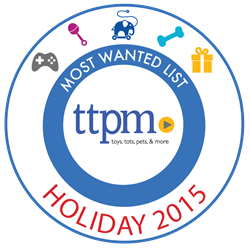 New York, NY (PRWEB) October 02, 2015
The leading product review site for Toys, Tots, Pets & More (TTPM) is proud to announce this year's "Most Wanted" list of toys and hottest trends for pets and the people that love them.
Unveiled during an invitation-only, one-day press showcase event in New York City, TTPM's 2015 Most Wanted list has now expanded its reach and influence beyond toys for kids and baby products to now include the year's best products for the furry kids (dogs and cats) which are part of the family too.
Over 50% of 157M pet owning U.S. households purchase a holiday gift for their dog or cat and spend an average of $210M during the holiday season, according to the American Pet Products Association (APPA). The $60B pet industry now offers pets the same kind of innovation and fun that kids have known for generations, from kosher pet foods and durable gear to interactive toys and technology. Based on value, durability, innovation, and whether or not it would make a good holiday gift, TTPM celebrates the best of the best and is excited to announce the TTPM 2015 Most Wanted for Pets:
For Dogs:

For Cats

"TTPM is the go-to online destination for the hottest trends in toys for kids and babies, but now we are thrilled to expand our coverage to include innovative toys and gear for our beloved four-legged kids too," states Andy Krinner, TTPM's Pet Content Director. "Each year, over 50% of pet-parents purchase holiday gifts for their dogs and cats and now TTPM.com now offers consumers a convenient way to learn about and shop for the hottest innovations in Pet Products through video reviews and a real-time price comparison tool."
In 2015, TTPM will video review hundreds of pet toys and gear from the industry's leading manufacturers. TTPM also features one-click live price comparisons with PetSmart, Petco, Wag.com, Amazon and Walmart, along with 12 other online retailers.
For more information or to see this year's hottest in pet toys and gear, please visit http://www.TTPM.com.
-30-
About TTPM
TTPM is a leading product review site for toys, tots, pets and more. With more than 10 million monthly views of its comprehensive video reviews, TTPM is the number one resource for consumers seeking the best in toys, baby gear, pet toys, kids electronics, and sporting goods. In addition to more than 5,000 independent reviews created annually by its expert team, TTPM provides one-click access to the best online prices and purchasing from major retailers. For mobile users, the free Shop for Kids app by TTPM delivers the site's full reviews as well as its proprietary pricing tool, offering consumers potential for immediate savings while they shop online or in stores. Shop for Kids is #1 rated app in Apple App in its category. The TTPM team can be found on Facebook, Twitter ,Instagram, Pinterest, YouTube, and Google+.