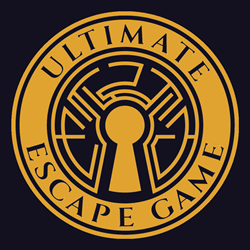 The Ultimate Escape Game team is so excited to share—what we believe to be—our best work yet.
Altanta, GA (PRWEB) October 16, 2015
Ultimate Escape Game is excited to announce the opening of its newest escape room, Enigma. Enigma is the fifth addition to its thrilling and challenging collection of escape rooms. Enigma features a WWII theme room in which players much crack Nazi Germany's infamous Enigma Code to stop an impending assassination attack by the Axis Powers.
"The Ultimate Escape Game team is so excited to share—what we believe to be—our best work yet. Trial participants have praised the exceptional puzzle design and detailed aesthetic of the room. Enigma really is an exemplar escape game experience; from start to finish players are fully-immersed in a WWII simulated reality. We cannot wait to share our most recent and highly-anticipated addition with the public," said Caitlin Downing, Director of Business Development.
Enigma set designers Paul Gant of Paul T. Gant Art & Design and Phil Carroll of Flying Colors Tennessee each have more than 30 years experience working in the film and theatre industry. The contributions of the set designers have elevated game experience by adding sophisticated adaptations that play to each participant's senses.
Now the largest escape room game location in Atlanta, Ultimate Escape Game is one of the city's most sought after attractions. In 33 weeks of business, the company has already attracted over 17,000 visitors, been awarded five out of five stars on Tripadvisor.com and ranked 17 out of 241 on the travel company's list of "Things To Do in Atlanta."
Ultimate Escape Game's Enigma room can be booked at ultimateescapegame.com/the-rooms/enigma.
About Ultimate Escape Game
Ultimate Escape Game is live escape the room adventure, featuring four distinct rooms with new puzzles and challenges to solve. Located off of I-75 North at I-285, just ten minutes from downtown Atlanta, Ultimate Escape Game is a family-friendly experience that keeps players coming back for more. All of the Ultimate Escape Game scenarios are constructed by specialized puzzle designers in Europe and cater to all levels of play.
Contact:
Caitlin Downing
Publicist, Ultimate Escape Game
401-374-8240
caitlin(at)ultimateescapegame.com
http://www.ultimateescapegame.com