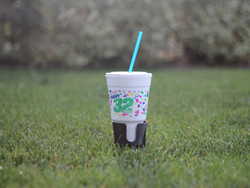 "I looked all over for a drink holder with certain features—I wanted something that would dig into the grass with ease, stay level on uneven terrain, and fit multiple cup sizes and shapes," said creator Ashli Lundwall
Springville, UT (PRWEB) October 06, 2015
The ultimate cup holder has arrived. The creators of Drink Spike, a compact outdoor beverage holder designed to keep drinks from tipping over, have launched a Kickstarter campaign to help support their first production order. Starting today, backers for the product can pledge to the campaign and receive early-bird specials as a reward for their pledge.
"I looked all over for a drink holder with certain features—I wanted something that would dig into the grass with ease, stay level on uneven terrain, and fit multiple cup sizes and shapes," said creator Ashli Lundwall. "I have three kids, so it needed to be easy to carry, too. I went to the drawing board and the Drink Spike was born."
The Drink Spike is made from sturdy industrial-grade plastic that literally spikes the ground to hold a beverage in place. The cup holder is ideal for outdoor surfaces, like grass, but works as well in sand, gravel, dirt, playground bark, and even snow. Made to keep drinks upright, it can double as a holder to keep personal items, like phones or keys, contained and off the ground.
The patent-pending design allows the holders to stack inward for safe portability and easy storage. A notch in the unique design accommodates cups with handles. A pack of four holders comes with a lightweight and washable Drink Spike drawstring bag for easy toting. Drink Spikes will be available in nine different colors.
In exchange for pledging to the project, backers will be rewarded with early-bird specials (available in limited quantities). A pledge of $8 or more receives two Drink Spike cup holders in any colors. With a pledge of $12 or more, backers receive a Family Four Pack in the colors of their choice (includes a carrying bag). The Extended Family Pack of eight holders, including two washable carrying bags, is available for a pledge of $20 or more. The estimated delivery for the initial run of Drink Spikes is November 2015.
For more information about the Drink Spike Kickstarter campaign, please visit https://www.kickstarter.com/projects/2110040389/1052977594?token=487089fd