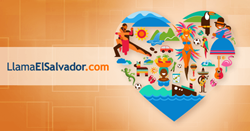 What el Día del Corazón Latino is trying to achieve is to celebrate latinos worldwide and to emphasize their unicity.
Atlanta, Georgia (PRWEB) October 08, 2015
The first Día del Corazón Latino will take place this year on October 15th and LlamaElSalvador.com invites its customers as well as all latinos around to world to take part in this new and unique celebration. The party takes place on LlamaElSalvador.com's Facebook page: Facebook.com/LlamaElSalvador and begins on October 8th. Like all major celebrations, it will last for a week, ending on October 15th, the actual Día del Corazón Latino.
On the first day, latinos are invited to share their thoughts on what the latino spirit brings to the world. During the following days, guests will be reminded of latino characteristics, food related traditions, and family life. On the last day of the celebration, LlamaElSalvador.com will reveal the anthem of el Día del Corazón Latino: 'La Gozadera' by Gente de Zona and Marc Anthony. Everyone will be invited to create their own video of 'La Gozadera' that will be included in the official video of the celebration.
What el Día del Corazón Latino is trying to achieve is to celebrate latinos worldwide and to emphasize their unicity. Last but certainly not least, its mission is also to bring latino friends and families closer together, no matter where they may be.
This is also the mission that LlamaElSalvador.com accomplishes every day through its international telecom services. LlamaElSalvador.com offers three types of international telecom solutions: Voice Credit (for calls and SMS), Mobile Recharge (an international top up service), and Virtual Numbers (a subscription through which customers can receive unlimited calls at local rates).
The rates for reaching El Salvador using the Voice Credit service are 10.9¢/min for Claro landlines, 16.9¢/min for any other landlines and all mobiles, and 6¢ for SMS. The Mobile Recharge service allows tops ups to Tigo, Movistar, Claro, and Digicel, while with a Virtual Number customers can receive unlimited calls from El Salvador for $9.99/month, while their Salvadoran friends pay only the cost of a local call.
On review websites, customers point out the low rates and high quality offered by LlamaElSalvador.com. One of them says 'Extremely pleased with the service, reliable, clear, fast, trustworthy. I have used LlamaElSalvador for a few years and have always experienced a great service, affordable rates, clear communications. I was able to provide my relatives with minutes on their phones with bonuses that enhance their value.'
To find out more about LlamaElSalvador.com's newest campaigns and offers, customers are invited to follow their Facebook page (Facebook.com/LlamaElSalvador).
About LlamaElSalvador.com:
LlamaElSalvador.com is an interactive website designed by KeepCalling, a global telecommunications company registered in 2002 in USA. Presently, KeepCalling provides its services to hundreds of thousands of consumers and businesses, with a focus on customer satisfaction. KeepCalling has been listed by Inc 5000 as one of the fastest growing companies in the USA for 5 consecutive years. In 2015 the company registered a revenue increase of over 200% from 2011 to 2014.