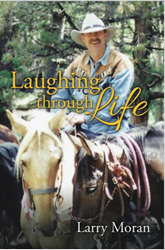 I love to laugh and to make other people laugh. Often, our happiness has to do with our attitude and our outlook, and that's what I show in my book
Bowie, Md (PRWEB) October 06, 2015
To kill weeds, his father set fire to their yard and nearly burned down their house. To impress a girl, he made his school basketball team, but when he was called onto the court during an important game – all the coach wanted of him was his shorts for the star player. He dated girls that liked to arm wrestle and preferred throwing knives. Through it all though, Larry Moran continued to laugh.
Moran, an emerging author in the Bowie area, details these stories and many more comical situations in his latest book, "Laughing through Life."
"I choose to have a positive attitude and look at life through humor's prism. I love to laugh and to make other people laugh. Often, our happiness has to do with our attitude and our outlook, and that's what I show in my book," Moran said.
Raised with his nine siblings in the small town of Carmel, Indiana, Moran has plenty of humorous fables and hilarious anecdotes that come with growing up in a large family full of imagination, pranks, and mischief. As being one of the largest families in Carmel during the 1950s, the Morans were the talk of the town.
"If there's anything that will demonstrate just how comical life can be, it's growing up in a family with ten children. I've been blessed with an interesting life," Moran said.
"Laughing Through Life" offers readers an inside look at the joys and amusing imparities of family dynamics, as well as the struggles and thrills of childhood, teen years, young adulthood, and beyond.
"Laughing Through Life"
By: Larry Moran
ISBN: 978-1504924689
Available in softcover, hardcover, e-book
Available on Amazon, Barnes & Noble and AuthorHouse
About the author
Larry Moran, author of "Laughing Through Life," was born in Indianapolis and currently resides in Bowie, Maryland. Having spent nine years as a newspapers reporter, and over 30 years as an economist, public information officer, and media spokesperson - Moran has since shifted his focus to writing and sharing his experience of growing up in a small Indiana town. Moran enjoys spending time with his family and is an avid golfer.
# # #
**FOR IMMEDIATE RELEASE**
For review copies or interview requests, contact:
Katie Wenclewicz
317.602.7137
kwenclewicz(at)bohlsengroup(dot)com