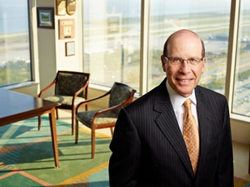 Cleveland, Ohio (PRWEB) October 07, 2015
Peter H. Weinberger, Esq., Managing Partner of Cleveland-based law firm Spangenberg Shibley & Liber LLP, has been recognized for the fourth consecutive year as a Local Litigation Star – Plaintiff in the 2016 edition of Benchmark Litigation, a publication focusing on leading trial attorneys in the United States.
The publication's rankings are the result of extensive interviews with private practice lawyers and in-house counsel. The guide's "local litigation stars" reflect lawyers who are recommended by peers and clients to have established consistent reputations as trial attorneys.
Throughout his distinguished career, Mr. Weinberger has successfully handled a wide variety of complex injury and wrongful death cases caused by medical malpractice, defective products, and automobile and trucking accidents. In the medical malpractice field, he has successfully tried and settled cases that have involved failures to timely diagnose diseases, failed surgeries, and birth injuries. In the field of defective products, he has resolved cases involving industrial plant explosions, defective insulation products, dangerous drugs and defective machinery. Mr. Weinberger is experienced in counseling clients who have suffered catastrophic injuries requiring lifetime medical care and in evaluating and presenting the complex economic and non-economic losses associated with a wrongful death lawsuit.
Mr. Weinberger has been honored by a number of professional groups. He is a Fellow in the American College of Trial Lawyers, a fellow in the International Society of Barristers, and an advocate of the American Board of Trial Advocates. He has been voted among the Best Lawyers in America® since 2007 and has been named to Super Lawyers continuously since 2006. Mr. Weinberger has been named to many Super Lawyers "Top" lists, including 2015 Top 100 Ohio Super Lawyers, Top 50 Cleveland Super Lawyer, and Top 10 Ohio Super Lawyers. Mr. Weinberger also was been selected by The National Trial Lawyers Association (a professional, educational, and business organization of trial attorneys) as one of the Top 100 Trial Lawyers in Ohio and he serves as the Chairman of the Leadership Council of the Case Comprehensive Cancer Center.
About Spangenberg Shibley & Liber
Spangenberg Shibley & Liber handles a broad range of personal injury, dangerous products, medical malpractice, workplace injury, nursing home and elder abuse and civil rights cases. It also litigates a variety of property damage and insurance coverage cases. For more information or to contact a Spangenberg attorney, please visit http://www.spanglaw.com or call 216.696.3232.