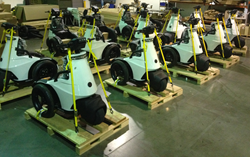 We are very proud to be delivering professional-grade clean energy solutions to our Saudi Arabian partners
Brea, CA (PRWEB) October 07, 2015
T3 Motion, Inc. (OTC: TTTM), the global leader in the design and delivery of electric vehicles to the commercial, law enforcement, and security markets, announced the shipment of over $182,000 worth of their flagship all-electric public safety transporter, the T3 Patroller to Saudi Arabia. A container of fully-equipped clean energy T3 Patrollers are expected to arrive in Q4 2015 to be used in a broad variety of police and security applications throughout the Kingdom of Saudi Arabia. The first of many of these T3s will be deployed at facilities throughout the country to protect Saudi Arabia's largest oil company.
The T3 Patroller is designed and purpose-built for Law Enforcement, Public Safety, and Military markets — both domestic and international. Featuring revolutionary "hot-swap" interchangeable batteries, the T3 Patroller is the first multi-shift capable personal electric vehicles suited for urban patrols, transportation centers, military bases, industrial complexes, retail and lifestyle centers, and campuses. Since 2006, thousands of T3 Motion vehicles have been deployed around the world, enabling T3 Motion, Inc. to become the global leader in clean energy solutions for police, security, military and private industry customers.
"We are very proud to be delivering professional-grade clean energy solutions to our Saudi Arabian partners," said Noel Cherowbrier, C.E.O. of T3 Motion, Inc. "To know that T3s will be protecting the facilities of the largest oil company in Saudi Arabia is a true testament of the professional abilities of the T3 Patroller. The full-sized T3 Patroller along with our new compact T3 Vision are ideal for multi-shift patrol environments throughout the world due to our game-changing interchangeable battery system. Our commitment to public safety solutions is at the heart of everything we do at T3 Motion."
About T3 Motion, Inc.:
T3 Motion, Inc. (OTC: TTTM) was founded in 2006 in Costa Mesa, CA and has become the global leader in clean energy, all-electric patrol vehicles for the Law Enforcement, Military, and Security markets. T3 Motion's revolutionary patented T3 Patroller was the first electric multi-shift vehicle designed for professional applications with interchangeable batteries. Deployed at airports, military facilities, retail centers, campuses, business districts, and other high-profile locations, the T3 Patroller has quickly become the choice of public safety agencies around the world. T3 Motion, Inc. now also offers customers the T3 Vision, a smaller all-electric patrol vehicle with interchangeable batteries ideal for interior patrols. For more information, visit http://www.t3motion.com, email sales(at)t3motion.com, or call (714) 255-0200.
"Safe Harbor" Statement under the Private Securities Litigation Reform Act of 1995: Statements in this press release regarding T3 Motion's business, which are not historical facts, are "forward-looking statements" that are not guarantees of future performance. Such forward-looking statements are subject to risks and uncertainties that may cause actual results to differ materially from those anticipated by the forward-looking statements. These risks and uncertainties include, among others, factors associated with market conditions and the satisfaction of customary closing conditions related to the proposed public offering. For additional information concerning these and other factors that may cause actual results to differ from those contained in the forward-looking statements, see "Risk Factors" in the Company's Registration Statement filed on Form S-1, as amended, and in periodic reports the Company files from time to time with the Securities and Exchange Commission.