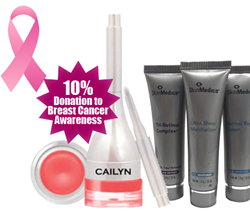 We Will Survive Cancer (WWSC) is honored and grateful to have the support of BeautyMojo in our mutual fight against cancer.
Washington, DC (PRWEB) October 06, 2015
It's one of the most dreaded sentences a woman can hear: You have breast cancer. Although she may not be able to change the diagnosis, she'll see the difference when she gets practical support that improves her quality of life during and after treatment. The staff at online retailer BeautyMojo had this in mind when they decided to contribute 10% of the proceeds from their Pink promotions throughout Breast Cancer Awareness Month this October to We Will Survive Cancer. The Alexandria, VA-based nonprofit helps cancer patients and their families with many aspects of day-to-day life including child care, transportation, financial management, and other concerns in order to relieve patients' stress and allow them to focus on treatment and recovery.
The decision to donate to an organization that uses funds for direct services rather than research came from the staff. As a business that serves primarily women with a large customer base that is aged 35+, breast cancer casts a long shadow over their clientele's lives. The staff recognizes that a strong support network plays a vital role in the health care process, and felt that it reflected BeautyMojo's values of excellent service, personal convenience, and the benefits of self-care to give to an organization that makes it easier for patients to not just get by but to thrive.
"We Will Survive Cancer (WWSC) is honored and grateful to have the support of BeautyMojo in our mutual fight against cancer. BeautyMojo reflects WWSC's mission of supporting patients and their families touched by cancer," said Gayela Bynum, founder of We Will Survive Cancer and its Board chairperson.
The Pink promotions offered through October include deep discounts on a choice of bundles from SkinMedica, SkinCeuticals, and Obagi that encourage daily skincare habits by providing a simple and complete regimen in one package. Purchases of Cailyn Cosmetics tinted lip balms, which include samples of SkinMedica products that the company hopes will introduce quality daily skincare to younger women, also go towards BeautyMojo's We Will Survive Cancer contribution.
BeautyMojo, which focuses on top-quality pharmaceutical-grade personal care products, is no stranger to the concerns of cancer treatment and prevention. Its most popular product, the prescription eyelash growth serum Latisse®, is often used by women who have undergone chemotherapy to help them re-grow lashes and eyebrows. Articles on the website educate consumers about the importance of sunscreen and SPF products in preventing skin cancer, and its skincare lines are chosen for the high quality of their formulas and ingredients to maximize skin health. With this month's Pink promotions, BeautyMojo continues to demonstrate that beauty and skincare can have much more than a surface impact on women's well-being.
About BeautyMojo
BeautyMojo is an online retailer offering a broad range of well-established, tested, and proven pharmaceutical-grade product lines such as Latisse, SkinMedica, Obagi, EltaMD, and Cailyn Cosmetics via the storefront shopbeautymojo.com. Founded in 2008, it is a subsidiary of Global Boost MD, LLC, a woman-owned business headquartered in Washington, DC. BeautyMojo works under the guidance of an internationally respected medical director, Dr. Muhamad Mirza, and in long-standing partnership with top pharmaceutical manufacturers to offer clients only the safest and highest-quality skin care and cosmetic products at the lowest possible prices.
###