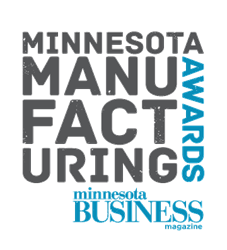 "We have had huge growth over the last couple of years and all of our employees have endured long hours, lots of stress and many "growing pains" throughout this growth period, but without their continued effort, this recognition would not be possible."
Sauk Rapids, MN (PRWEB) October 08, 2015
Talon Innovations, a provider of Precision Machined Products and Assemblies for the Semiconductor, Medical Device, Aerospace and other technology-driven industries, announces that it is one of three finalists for the Minnesota Business magazine's Manufacturing Award in the category of "Best in Class – Midsize Company." On Thursday, September 25 Talon Innovations was recognized as a nominee for this competitive award.
The "Best in Class – Midsize Company" award recognizes a midsize company (51-250 employees) for overall excellence in the manufacturing industry in Minnesota. Talon was among the top three finalists from more than 200 other nominated companies.
"This kind of recognition is only possible because of the 200+ dedicated, hard-working Talon employees," said Greg Olson, CEO of Talon Innovations. "We have had huge growth over the last couple of years and all of our employees have endured long hours, lots of stress and many "growing pains" throughout this growth period, but without their continued effort, this recognition would not be possible."
Each year Minnesota Business Magazine honors the industry's best leaders and companies with a prestigious awards event and popular feature article highlighting all award finalists. This year the event was held in Minneapolis on Sept 24. Talon is also featured in the October Manufacturing issue of Minnesota Business Magazine.
Talon prides itself in taking on challenging projects that other companies may not. This mantra has enabled the company to evolve from a machine shop into a turn-key solution provider. Talon specializes in ultra-high purity components for a variety of industries, including medical devices, aerospace technology and semiconductors. Since 2011, the company has seen significant growth, tripling its sales and its workforce.
About Talon Innovations:
For over 20 years, customers in the Semiconductor, Medical Device, Aerospace and other High Tech industries have relied on Talon's expertise, capabilities and professionalism. As a leading-edge CNC machine shop near Minneapolis, Talon Innovations is your source for "Turn-Key" products and services to technical industries through the development and production of precision, ultra-high purity components and complex assemblies. Talon specializes in close tolerance machining and finishing of exotic materials, alloys and plastics. Talon Innovations is located in Sauk Rapids, MN. Please visit http://www.taloneng.com for more information.