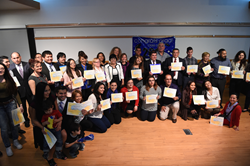 There are many peer mentoring programs, but no one has a model based on the strength of a culture.
Salt Lake City, Utah (PRWEB) October 07, 2015
The Salt Lake Community College Academic and Career Advisors peer-mentoring program "Una Mano Amiga" has been selected to receive the 2015 NASPA Region V Innovative Program award. NASPA (National Association of Student Personnel Administrators) is the leading association for the advancement, health and sustainability of the student affairs profession.
Una Mano Amiga (A Friendly Hand) began at SLCC in 2011 and has since assisted more than 830 Hispanic students to become mentors and leaders and has guided them under the motto "Learn, Grow and Share." The program enhances the services that Academic Advising provides to Hispanic students at SLCC.
"There are many peer mentoring programs, but no one has a model based on the strength of a culture," said Sonia Parker, SLCC director of Academic and Career Advising. "This is a culture that embraces collectivism, appreciation, social relationships and family values. Peer leadership skills are developed as participants help others. The NASPA award strengthens staff and administrators in our efforts to empower students to become full participants in their academic planning, career goals and lifelong learning."
The award will be presented at a NASPA regional conference November 9 in Oakland, California. For more information about Una Mano Amiga, visit http://www.slcc.edu/academicadvising/multicultural-advising/events.aspx or call 801-957-4238 or 801-957-3349.
Salt Lake Community College is an accredited, student-focused, comprehensive community college meeting the diverse needs of the Salt Lake community. Home to more than 60,000 students each year, the College is Utah's leading provider of workforce development programs. SLCC is also the largest supplier of transfer students to Utah's four-year institutions and a perennial Top 10 college nationally for total associate degrees awarded. The College is the sole provider of applied technology courses in the Salt Lake area, with multiple locations, an eCampus, and nearly 1,000 continuing education sites located throughout the Salt Lake Valley. Personal attention from an excellent faculty is paramount at the College, which maintains an average class size of 20.