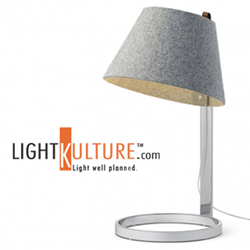 When I saw the preview samples in New York, I had a lot of fun testing the one touch dimmer switch, and re-adjusting the limitless attachments of the shade.
Atlanta, GA (PRWEB) October 08, 2015
LightKulture.com a leading e-commerce supplier known for innovative contemporary LED lighting, ceiling fans and fireplaces, is very excited to participate in the launch of the Lana LED Collection of magnetic portable lighting from Pablo. "We have been waiting months for the release of this hot new collection, from one of our favorite lighting designers", noted Susan Inderbinen President of LightKulture.com. Pablo Designs is known for contemporary, innovative LED task lighting. The brand is also expanding into a number of lighting categories which include LED pendants, LED chandeliers, and LED swing arm lamps. Lana is the first time Pablo has used the warmth of felt, offered in an organic-pallet of colors to enrich any decor. Simple chrome plated or white painted metal linear bodies, offered in 3 sizes, enables the magnetic shades to be adjusted to a variety of position that are most comfortable..The finger touch optical-sensor, located up inside the shade provides one touch, full range dimming control.
The Pablo Designs Lana is available as a small or large table lamp, featuring 100% wool shades offered in 5 different colors: stone grey, charcoal, artic blue, moss and plum. The built in 7.5 watt LED module, allows full range, fingertip dimming control. A sturdy magnet, neatly concealed in the back of the shade, supports it to the main frame of the lamp. This allows the user to detach and re-attach the shade, slide the shade up and down along the height of the frame, to and from, or in any position within 360 degrees. Lana can be both a bright LED task lamp, or provide dramatic ambient lighting based on the need at the time. The floor lamps offers the option to have an 11" diameter hi-gloss white pedestal side table, that also adjusts along the frame. The pin-up wall lamp has been cleverly designed to include a metal wall plate that does not need a junction box to be attached to the wall. Anywhere light is needed, the shade is easily attached to the wall by the magnet, and simply plugs into any electrical outlet. Versatility is an understatement.
For more information go to Pablo Designs - http://www.lightkulture.com/brands/Pablo-Designs.html
New Lana Collection by Pablo Designs Blends Timeless Materials with LED Technology. Light That Adapts to Any Space, Now Available at LightKulture.com
"The new Lana Collection is everything you would expect from Pablo Designs, functional and practical, with a signature style all their own. Pablo has remained true to his sense of lighting with a purpose. He surprises us with his use of real wool, in rich, sophisticated color tones that direct light, both playful and practical, but never boring. When I saw the preview samples in New York, I had a lot of fun testing the one touch dimmer switch, and re-adjusting the limitless attachments of the shade. The wall lamp is so versatile, it makes a great bedside reading lamp. If your workspace is short on space, the magnetic shade easily attaches to the wall and plugs into any standard electrical outlet. The dimmer is cleverly mounted up inside of the shade. The floor lamp with adjustable pedestal table becomes a useful piece of furniture, a functional light, and a piece of art, all in one design. The simple metal support structure come in white or chrome, allows the color and texture of the shades to be outstanding design feature", noted Susan.
About LightKulture.com
At LightKulture.com, our mission is to offer the finest energy efficient contemporary lighting and light fixtures from around the world. We have assembled an exciting collection of the industry's most innovative decorative and architectural lighting.We are proud to offer lighting solutions for both your home and work-life environments. Simplicity in design is complicated, function makes it last. Be inspired by our range of essential designs from well respected American and European manufacturers. In today's world, energy efficient lighting is as important as eco-friendly or green lighting fixtures, such as LED or CFL lighting. We offer the very best energy efficient lighting and light fixtures, both high value LED lighting fixtures and CFL lighting fixtures in modern and contemporary styles that provide quality, innovation and authenticity.
LightKulture
http://www.lightkulture.com/
Email. sales(at)lightkulture(dot)com
Tel. 941-330-0422