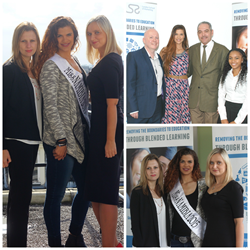 Whatever your heart conceives, you can achieve.
Windhoek, Namibia (PRWEB UK) 13 October 2015
London School of Marketing (LSM) is delighted to announce its alliance with the newly crowned Miss Namibia 2015, Steffi van Wyk. Through an enthralling competition, she will help select a disadvantaged student from the Namibian community to be the recipient of a free degree course awarded by Anglia Ruskin University and sponsored by the London School of Marketing.
Since the launch of the Local Access Point (LAP) scheme, LSM has been actively working towards developing and expanding its network of overseas centres. While understanding that students find it increasingly difficult to bear the travelling costs, the LAP project enables students to have access to British qualifications from all over the globe.
With LSM's IT driven approach and its comprehensive quality control process, they attest to the consistency of its programmes. According to LSM, the support provided by its local partner is an added advantage as it provides students with face-to-face interaction giving them the much needed assurance of the programme they are enrolling in.
One of the newest partners to join the expanding LAP network is Brown Business Assurance in Windhoek, Namibia. They serve as an education and business support centre. With extensive links to local businesses as well as providing educational guidance, LAP Windhoek ensures that students looking for work experience will also have the opportunity to join an internship scheme once they have successfully completed their studies. Marketing, promotion and public relations are featured as the main recruitment activities of the centre's daily operations.
As a result of their efforts, they were introduced to Steffi Van Wyk. Sports science graduate Steffi was crowned in August 2015 and has since become a role model and an inspiration to thousands of young Namibians. In her busy schedule Steffi has dedicated time to give motivational speeches and actively takes part in charity work.
Steffi dropped in at the London School of Marketing premises during her visit to England to support her brother and her nation at the 2015 Rugby World Cup. She shared her heartfelt regret at England's elimination from the World Cup, but remarked: "I am especially proud of Namibia. Although the warriors did not manage to win a match yet, they played with heart, and that's what rugby is all about."
During her visit, they shared ideas of bringing UK qualifications to students across the world. Steffi remarked that she felt fortunate to be involved in this project and that she was impressed with LSM's strategy to "take education worldwide, to many cities, many nations". She explained, "Promoting education is the key to a successful lifestyle.''
With the new LAP based in Windhoek, the opportunity for Namibian students to gain a British degree has become a real possibility rather than a distant goal and is one that Steffi was excited to hear about and support. LAP Windhoek would like to make that goal a reality by offering a scholarship to a disadvantaged student as part of the competition and with Steffi Van Wyk as the Goodwill Ambassador for LSM/LAP Windhoek.
Anton Dominique, CMO at the London School of Marketing says: "We are very excited about this new venture and are convinced that with Steffi's patronage, her enthusiasm, dedication and support, it will be a successful one and that it will help LSM to pave the way for many more Namibian students to advance their career by obtaining a high quality British Degree."
With Steffi's support and enthusiasm, LSM is confident that they will be able to achieve great heights of success; as reflected in Steffi's personal motto: "whatever your heart conceives, you can achieve."
"To find out more about the courses offered at LAP Windhoek, please contact the LAP Manager Andrew Brown on +264812916859 or email windhoek(at)lseducationgroup.com
Visit their web site: http://www.londonschoolofmarketing.com/windhoek-0 and Facebook page at https://www.facebook.com/LapWhk?fref=ts