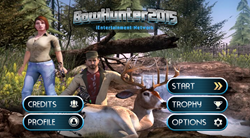 "I will be in my Treestand waiting for my shot, on a brisk NC day, playing this Bow Hunter 2015 Tournament!", Cooper's Trading Fan
Cary, North Carolina (PRWEB) October 15, 2015
iEntertainment Network Inc., (OTCBB: IENT) is pleased to announce its first mobile online hunting tournament for Bow Hunter 2015. From October 23rd to October 25th, iOS and Android players will compete in 15 different hunts focusing on speed, accuracy, and overall success against other players worldwide. A total of $500 will be awarded in cash gift cards accepted at top outdoor retailers such as Bass Pro Shop, Cabela's, or Gander Mountain.
Sporting a fully-realized 3D world, Bow Hunter 2015 features lifelike terrain and more than 200 hunts in locations all over the United States. Players have access to real-world accessories essential to bow hunting -- including 15 different bows, 12 different arrow weights, rangefinders, and a variety of camouflage.
"Now is the time to prove your hunting skills in Bow Hunter 2015," says JW "Wild Bill" Stealey, CEO of iEntertainment Network. "Everyone likes receiving some extra cash to spend on outdoor equipment and supplies, but true hunters will also get a chance to shine against thousands of players all over the world. Do you have what it takes to win?"
To learn more about Bow Hunter 2015, please visit http://www.bowhunter2015.com
October Tournament Details & Rules
Start date: Friday, October 23
Rules
● Total Hunts: 15 (5 hunts per day).
● Goal: to achieve the highest score every day.
● Players can replay each day's hunts to maximize their daily scores.
● Day 1: 5 hunts.
● Day 2 5 hunts. Scores will be multiplied by 2 to get the player's final score for the day.
● Day 3: 5 hunts. These hunts will be the key to winning the tournament, since scores will be multiplied by 4.
● Each day, the top 5 players' scores will be featured on the in game Leaderboard.
● Cash Prizes for winning players in positions 4 to 20 will be delivered by PayPal.
Prizes
● 1st prize: $150
● 2nd prize: $100
● 3rd prize: $50
● Winners 4 to 20 will receive cash in their PayPal accounts from $35 to $5 cash.
Upcoming 2015 Tournaments
The Bow Hunter 2015 November tournament will be held on the weekend of November 20th. The December tournament will be held on the weekend of December 18th.
Download Links
iOS: https://itunes.apple.com/us/app/bow-hunter-2015/id992020597?ls=1&mt=8
Android: https://play.google.com/store/apps/details?id=com.ient.bowhunter2015
Assets
Trailer
YouTube
https://www.youtube.com/watch?v=_xX6Bro_MQE
Screenshots & Logos
IMGUR
http://imgur.com/a/1T8Ve
Social Media
Bow Hunter 2015 Facebook
https://www.facebook.com/BowHunter2015
About iEntertainment Network
Founded in 1994, iEntertainment Network, Inc. (IENT) hosts online games for subscription and microtransaction revenues. IENT also sells single-player versions of its online games on Steam and other download sites. Staff and management at IENT have developed more than 500 successful games since 1982, when JW Stealey founded MicroProse Software. Many of these games have sold more than 1,000,000 copies -- including the world-famous Civilization, F-15 Strike Eagle, Gunship, Pirates!, M1 Tank Platoon, and 25 additional titles.
Safe Harbor Notice
Certain statements contained herein are "forward-looking statements" (as defined in the Private Securities Litigation Reform Act of 1995). iEntertainment Network, Inc. (IENT) cautions that statements made in this news release constitute forward-looking statements and makes no guarantee of future performance. Forward-looking statements are based on estimates and opinions of management at the time statements are made. These statements may address issues that involve significant risks, uncertainties, estimates and assumptions made by management. Actual results could differ materially from current projections or implied results. IENT undertakes no obligation to revise these statements following the date of this news release.
###
Media Contacts
Luis Levy
Novy PR for iEntertainment Network, Inc.
310-399-4349
luis(at)novypr(dot)com
John W. Stealey
Chief Executive Officer
iEntertainment Network, Inc.
919-238-4090
JWStealey(at)ient(dot)com