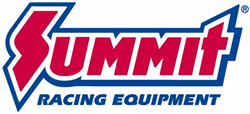 Tallmadge, OH (PRWEB) October 21, 2015
Designed for high-horsepower (600-750 HP) street and race applications, Trick Flow PowerPort 325 Cylinder Heads boast an extremely efficient 325cc chamber design to improve combustion.
The heads feature Trick Flow's fully CNC Competition Ported runners to maximize airflow. Further enhancements include raised exhaust ports (.270" over stock), which means the heads require Cobra Jet headers. The end result is that these heads flow better, resulting in significant horsepower and torque gains over stock. Racers are getting thousands of passes with these heads without any significant mechanical failures.
That kind of resume drew the attention of the PowerNation TV Engine Power guys, who used a set to top off their mammoth 557 big block Ford build. The team also installed a Trick Flow R-Series Aluminum Intake Manifold designed specifically for these PowerPort 325 Cylinder Heads. Watch the full episode here.
The heads come fully or assembled or as bare castings. Versions with 290cc combustion chambers are also available.
Summit Racing Equipment
http://www.SummitRacing.com
1-800-230-3030