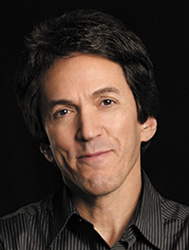 (PRWEB) October 15, 2015
On Thursday, November 12, at 7:30pm, internationally renowned and best-selling author, journalist, screenwriter, and playwright Mitch Albom will conduct an engaging introduction and book signing of his latest book The Magic Strings of Frankie Presto, just two days after its launch by HarperCollins Publishers.
The Magic Strings of Frankie Presto is the epic story of a fictional icon – the greatest guitar player to ever walk the earth —and the six lives he changed with six magical blue strings.
In Albom's most original and sweeping novel to date, the voice of music itself narrates the story of its beloved disciple, young Frankie Presto, born in a burning church, abandoned as an infant, and raised by a blind music teacher in a small Spanish town. War rips his life apart, and at nine years old, Frankie is sent to America in the bottom of a boat. His only possession is an old guitar and six precious strings.
But Frankie's talent is touched by the gods, and his amazing journey weaves him through the musical landscape of the twentieth century, from classical to jazz to rock and roll, with his stunning playing and singing affecting numerous stars along the way, including Duke Ellington, Hank Williams, Elvis Presley, Tony Bennett, Carole King, Wynton Marsalis and KISS.
Frankie, briefly, becomes a pop star himself. He makes records. He is adored. But his gift is also his burden, as he realizes the power of the strings his teacher gave him, and how, through his music, he can actually affect people's lives – with one of his six strings turning blue whenever a life is altered.
At the height of his popularity, tortured by his biggest mistake, Frankie Presto vanishes. His legend grows. Only decades later, having finally healed his heart, does Frankie reappear—just before his spectacular death—to change one last life.
A lifelong musician, Mitch Albom's passion for the subject shines through on every page. With its Forest Gump-like romp through decades of actual music, The Magic Strings of Frankie Presto is a classic in the making. Heartrending and inventive, Albom's latest novel is infused with the thematic message that "everyone joins a band in this life" and those connections have the power to change us all.
ABOUT THE AUTHOR
Mitch Albom is a bestselling author, screenwriter, playwright and nationally syndicated columnist. The author of six consecutive number one New York Times bestsellers—including Tuesdays with Morrie, the best-selling memoir of all time—his books have collectively sold more than 35 million copies in forty-two languages. He has founded seven charities in Detroit, and operates an orphanage in Port-Au-Prince, Haiti. He lives with his wife, Janine, in Michigan.
ABOUT THE GORDON CENTER FOR PERFORMING ARTS
The Peggy and Yale Gordon Center for Performing Arts is Baltimore County's premiere arts destination. The Gordon Center offers an eclectic variety of professional entertainment in music, theater, dance, family programming and film. You will experience world-class acoustics in an intimate, state-of-the-art venue. Free parking in well-lit spaces, handicap accessible, and equipped with a special RF system for the hearing impaired, the Gordon Center can be enjoyed by all.