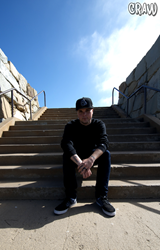 Ventura, CA (PRWEB) October 16, 2015
Ventura, CA hip-hop artist CRAW has released his debut album "Escape Artist" and has premiered his new video for the track "UV" online at https://youtu.be/GO1hTl331lE. The album was produced by veteran producer Matty Trump (Fat Joe, Jadakiss) and has been nominated for "Album of the Year" by the Ventura County Music Awards.
"This album is truly my best work to date, and a documentation of my life over the past few years. Working with Matty Trump on this record allowed me to expand my sound and try things that I've never done before. From singing - to grimey double time, it's all there. And having the opportunity to work with a legend like Blueprint was a dream come true for me. I really feel like Escape Artist shows where I'm at and where I plan on going with my music," commented CRAW. ""When I wrote UV I wanted to demonstrate my versatility on the album, and match the energy Matty created though the beat. The director, Alex Henderson, did a beautiful job of crafting an intense visual that vibes with the track perfectly."
CRAW has been grinding on the independent hip-hop scene for the past couple years and garnering some serious attention from fans. In 2014 he dropped a collaborative effort with San Francisco rapper Shizzy in the group Character Assassins and recorded tracks with the likes of Chino XL, Slaine from La Coka Nostra, and King Magnetic from Army of Pharaohs. Since then, CRAW has ventured out with his own solo effort and the his debut single "Target Practice" featuring Blueprint debuted at #4 on the Rap Attack Nationwide College Radio Charts.
CRAW will perform a free CD release party show at The Tavern in Ventura, CA on Friday, October 16th.
###