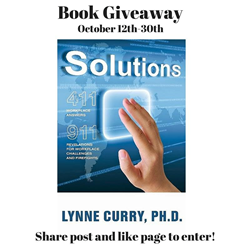 Anchorage, AK (PRWEB) October 15, 2015
Dr. Lynne Curry is offering free signed copies of her highly rated book, Solutions: Workplace 411 & 911.
Solutions offers strategies, insights, answers and revelations. Some are simple, others innovative and surprising—and all ones that can change work life for the better. Solutions offers sixty of the best real-life dramas—and enlightening answers from Dr. Lynne Curry's three decade weekly newspaper column run in multiple newspapers. Written by a successful management consultant and coach, Solutions offers personal workplace 411/911 written in Curry's warm, personal, enlightening and fun style.
The giveaway lasts until Friday 10/30. Enter here.