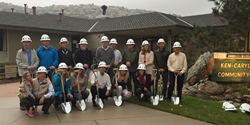 A&P is a community builder. The team is working closely with Ken-Caryl Ranch so the finished projects will be facilities the community will be proud of
Denver, CO (PRWEB) October 21, 2015
Adolfson & Peterson Construction (A&P) started construction on simultaneously renovating three community facilities for Ken-Caryl Ranch, a covenant controlled community located southwest of Denver. A&P is working with Vanir Construction Management and Sink Combs Dethlefs on the projects.
Ken-Caryl Ranch consists of two boards, the Master Association and the Metropolitan District, elected at-large by the residents. The Master Association consists of several resident committees that help guide the business of the Ranch. In addition, the Ken-Caryl Ranch Foundation is a public non-profit charitable organization created to help better the lives of those living in Ken-Caryl.
The Ranch House project will improve the functionality of the interior space, modernize the appearance and provide a more efficient use of space. The interior renovations will be broken into three phases, renovating various offices and spaces used by the staff and community.
The Community Center project includes repurposing the interior, improving inside and outside accessibility, reconstructing tennis courts, and improving the pool area. The Community Center improvements include a great amount of site work including new pathways, an improved drop-off and parking area, a new playground, a tennis pavilion, outdoor restroom building and a splash pad to replace the wading pool. With an original plan to break the Community Center construction into two phases, A&P combined the work into one phase – saving more than 30 days of construction time.
The Dakota Lodge Campus portion of the projects will result in a transformation of the facility. The plans include a building addition, which will serve as a new multi-purpose room. The second phase of construction will provide for new, accessible restrooms, a nature center display area, a community and Ranger conference room, a dedicated classroom for environmental education, and a new and improved serving kitchen.
"A&P is a community builder. The team is working closely with Ken-Caryl Ranch so the finished projects will be facilities the community will be proud of," said Tom Horsting, A&P Senior Vice President.
A groundbreaking celebration was held October 6th to commence the work moving from planning phases into construction. All three projects will be completed in the spring of 2016 with a goal of keeping amenities open as much as possible to the residents during construction.