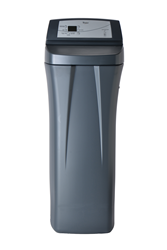 This new softener offers homeowners a new level of convenience and peace of mind.
St. Paul, Minn. (PRWEB) October 22, 2015
Ecodyne Water Systems, a licensed Whirlpool® Brand partner, is transforming how consumers interact with their water treatment systems with the introduction of a new 46,000-Grain Water Softener with Wi-Fi Smart Technology. This innovative softener makes it possible to monitor and manage a home's water treatment system and water usage via a smartphone, tablet or computer from virtually anywhere inside or outside the home.
Wise water usage
More people are aware of their water footprint and are taking steps to control water usage in their homes. High-efficiency washers and low-flow toilets are a start, but technology is taking water usage and conservation to new levels. Ecodyne Water Systems has partnered with Iris by Lowe's to create a simple and secure online dashboard providing softener information at a glance, such as salt level, water used today, and average daily water usage. With the information, homeowners can adjust habits to save water and money on utility bills.
Peace of mind
Because water softener and refinement systems are usually tucked away in a basement, garage or utility room, they are often overlooked for extended periods of time. Low salt levels and other issues can go unnoticed for weeks, causing damage to the appliance. The new 46,000-Grain Water Softener with Wi-Fi Smart Technology softens and treats a home's water while monitoring water usage, letting the homeowner know when softener salt is needed. It also sends alerts if potential issues are detected, such as continuous water flow over a period of time (i.e. a leaky toilet) or excess water usage above normal usage. This allows the homeowner to make adjustments to save money on utility bills, plus provides peace of mind that problems can be corrected before expensive repairs are required. This is on top of the inherent savings water softeners provide.
"Smart devices are becoming a central hub for monitoring and controlling appliances in today's digitally-connected homes," said Keith Johnson, director of product development of Ecodyne Water Systems. "This new softener offers homeowners a new level of convenience and peace of mind."
The Whirlpool® 46000-Grain Wi-Fi Connected Water Softener (WHESCS) is available exclusively online and in-store at Lowe's, with a starting MSRP of $697. For more information, check out the new water softener on whirlpoolwatersolutions.com.
About Whirlpool® Brand
Whirlpool brand is part of Whirlpool Corporation, the world's leading manufacturer and marketer of major home appliances. Whirlpool Corporation is also one of Habitat for Humanity's largest corporate partners for over 15 dedicated years, donating a refrigerator and range to every new Habitat for Humanity home built in North America.
Questions regarding Whirlpool Brand Licensing can be directed to Andrew Martinek (269) 923-2318 or Andrew_C_Martinek(at)whirlpool(dot)com.
###