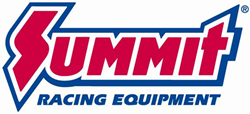 Tallmadge, OH (PRWEB) October 23, 2015
The guys at Auto Revolution and PPC Customs re-assembled 1962 Chevy C10 from a bare chassis into a running vehicle in just 48 hours. Summit Racing's Auto Revolution Chevy C-10 Parts Combos will give truck enthusiasts a template to build their own C10.
Engine Combo
With only 48 hours to finish the truck, Auto Revolution and PPC Customs went the crate engine route with a BluePrint Engines 383 cubic inch Chevy with aluminum heads. Upgrades include a Professional Products Powerfire distributor and harmonic damper, a Summit Racing aluminum radiator and Maradyne electric fan, and ARP fasteners.
Fuel System Combo
The C-10 also got a fuel system upgrade. The 383 was topped with a 750 cfm Holley 4160 carburetor. The fuel system includes an Aeromotive Stealth fuel tank with electric fuel pump, an Aeromotive fuel pressure regulator, and Russell fuel line, fittings, and pressure gauge.
Exhaust System Combo
What goes in the 383 must come out. That's the job of a set of Hedman Street Headers and a Summit Racing Rod Builder Exhaust Kit. The header gaskets are from Remflex.
Interior Combo
Since the cab is where a driver spends most of their time, Auto Revolution and PPC Customs outfitted the C-10 with nice things to look at, steer, and shift gears with—VDO Cockpit Royale gauge kit; a Summit Racing steering column and steering wheel; and a Lokar Lakester throttle pedal assembly and Midnight series shifter.
Watch the truck build video on YouTube and get all the details in the story on the Auto Revolution site.
Summit Racing Equipment
SummitRacing.com
1-800-230-3030