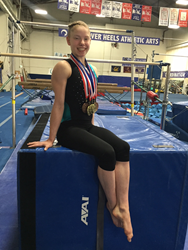 Emeryville, CA (PRWEB) October 23, 2015
Head Over Heels Athletic Arts Level 10 competitive gymnast, Sara Taubman, will attend the Women's Junior Olympic National Team Training Camp at The Ranch in Huntsville, TX on October 22-25. After winning the 2015 Level 9 Western Championships, Taubman earned a spot on the Junior Olympic National Team and the opportunity to attend this high-caliber camp. Totaling a 38.2 all-around score, Taubman was crowned the 2015 Western Level 9 All-Around Champion. Additionally, Taubman took gold on bars (9.55) and floor (9.6).
"I had a great experience at Western Championships," Taubman said. "It was honestly one of the most fun competitions I've been to. I had a great time getting to know the other Region 1 girls and cheering them on. My main goal was to hit all my routines and just have fun. It felt great to contribute to Region 1's score and help the team win."
After moving up to Level 10 -- the highest level in the Junior Olympic system -- Taubman looks forward to a strong season and qualifying to the Junior Olympic National Championships next May. Ultimately, Taubman aspires to compete at the collegiate level.
"Sara's work ethic is the most disciplined I've ever seen in a young athlete," HOH Executive Director and team coach, Katreece Stone, said. "She's the ideal athlete to work with: self-motivated, great attitude and a supportive teammate. These are the reasons why her progress in the gym has been so profound. I think she'll soak up the experience at The Ranch like a sponge."
At the Junior Olympic National Team Training Camp, Sara will have the opportunity to train alongside a handful of the country's top athletes and learn from a premier coaching staff.
"I'm excited to work with the national team coaches and learn the techniques that they teach to the national team," Taubman said. "I also can't wait to train with some of my friends that I've competed with and meet new friends, too."
In everyday training, Taubman's teammates, coaches and fierce passion for the sport motivate her. Competing in the National Collegiate Athletic Association sticks in the back of her mind as well.
"My teammates always have my back and help me through the tough days," Taubman said. "The gym is my happy place where I can leave behind the stress of school and just focus on what I love most, gymnastics. My coaches motivate me because they know when to push me harder, and they always believe in me. My goal of competing in college also motivates me because I believe that collegiate gymnastics will be the most incredible experience. I can't wait to contribute to a college team in the future."
For more information about any of Head Over Heels Athletics Arts classes and programs, call 510-655-1265, view the various gymnastics programs on the web at http://www.hohathleticarts.com, or visit 4701 Doyle St., Building F, in Emeryville, CA.
About Head Over Heels Athletic Arts: Head Over Heels Athletic Arts has been helping children gain fitness, gymnastics skills, confidence and self-esteem for nearly 40 years. Founded in Oakland in 1977, Head Over Heels Athletic Arts continues to grow and offer new, varied programs with the constant goal of providing the best in gymnastics and fitness. The Head Over Heels Athletic Arts' staff receives continuous training to ensure excellence, as well as the safety of each child. Children are natural learners and Head Over Heels promotes that positive learning attitude. For some students, a preschool class at Head Over Heels is their first classroom experience.