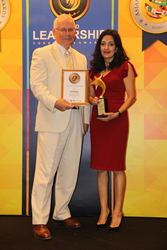 I am humbled and honored to receive such recognition for the work I have been doing. The multiple roles that a woman plays in today's society is full of challenges that we keep overcoming on a daily basis
Dubai, United Arab Emirates (PRWEB) October 26, 2015
Leena Gauba, director of an award winning Dubai-based center of excellence in eye care Imperial Healthcare Institute, was the winner of one of the top awards at the 5th Asian Leadership Awards on October 6th at the Taj Dubai. Leena Gauba was presented with the 'Woman Leadership in Healthcare' award for 2015.
The award was received by Leena Gauba along with her husband, Prof Dr Vinod Gauba. Commenting on the achievement, Leena said "I am humbled and honored to receive such recognition for the work I have been doing. The multiple roles that a woman plays in today's society is full of challenges that we keep overcoming on a daily basis. It is reassuring that our contribution to healthcare in the region is being acknowledged and such accolades only drive us to work even harder and raise the bar higher. Our mission at Imperial Healthcare has always been to provide the highest standard of medical care in an ethical and uncompromised approach. Using innovative management techniques, we've managed to create a culture that is conducive to growth, development and service to the community. We want to always ensure that our patients are receiving the best possible care by incorporating the most sophisticated technology and expertise from around the globe."
Leena Gauba is a graduate from the King's College London masters in international management program and had also previously completed a degree in Pharmacology and Journalism. She established a franchise network in the UK raising funds for children's charities like Save the Children before moving to Dubai in 2008, which is when she took a leadership position in healthcare management. Imperial Healthcare was the recipient of the 'Best Eye Care Clinic of the Year' award at the event. The centre was also recognised for its pioneering techniques such as SupraLASIK™ the unique non-surgical solution to vision correction. The premier eye care center has its foundations in the United Arab Emirates since 1976 with the latest facility in Dubai Healthcare City inaugurated in 2008. Since then, they have helped thousands patients from over 125 countries. Imperial Healthcare's Ophthalmologists are truly world-class eye care specialists managed by an award winning management team.