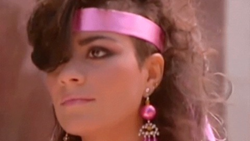 New York, NY (PRWEB) October 23, 2015
On November 7, 2015, Entertainer/Producer Steve Stanulis, who has appeared on NBC's "Law and Order", HBO's "The Sopranos" and in movies such as: "Gangs of New York", "The Manchurian Candidate" and "American Fango", will debut his directorial skills with "Legends of Freestyle," a documentary starring Grammy Award winner Lisa Lisa and Mr. Freedom William. The film will premiere at HBO Urban Action Film Festival at AMC Theatres in NYC.
"Legends of Freestyle" is a ninety minute documentary about 80's freestyle music featuring past performance footage as well as candid interviews with Lisa Velez (Lisa Lisa), Freedom Williams and others, who relay behind the scenes stories about life as freestyle artists and why they believe freestyle never made it big in the music industry.
Velez, Little Louie Vega, TKA, Judy Torres, Cynthia and others "keep it honest" and "keep it real", as they discuss the truth about who worked hard at their trade and who rose to fame with a single hit. Artists discuss who wrote their own songs, who is suing who and who the outcasts were, delving into why so many freestyle artists were "one hit wonders."
Said Stanulis, "I wanted to do something I was passionate about. Growing up with free style, I was surprised that nothing has ever been done on this musical genre. I always found it interesting that people know the artists name and songs, but wouldn't know them if they saw them in a bagel store."
The interviews are open, honest and without apology. They paint a picture of a world that fans only glimpsed from afar....until now.
Steve Stanulis came to national recognition when his show, Savage Men competed on America's Got Talent. Among his television credits are "Rescue Me" and the USA documentary "Making of a Dancer". In 2007, Steve founded Stanulis Productions in 2007. His film "The Invisible Life of Thomas Lynch" won the "Audience Award" at the CMJ Film Festival for Best Film and earned Stanulis a nomination for best actor. He produced and starred in "Long Shot Louie" which won Best Feature at the Williamsburg International Film Festival. His play, "Stripped: The Play" was voted number one Off-Broadway play by The New York Times.