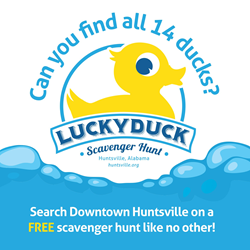 "We have so many family-friendly activities in downtown Huntsville, and we're excited to continue to showcase many of them on the Lucky Duck Scavenger Hunt." -Judy Ryals, CVB President/CEO
Huntsville, Alabama (PRWEB) October 26, 2015
If you've been in Downtown Huntsville recently near Big Spring International Park, you've seen the ducks. They're cute. They're feather-y. They waddle. And two years ago, they inspired city and community leaders to create a scavenger hunt in their likeness. The Lucky Duck Scavenger Hunt, created, promoted and maintained by the Huntsville/Madison County Convention & Visitors Bureau, launched in 2013 with 12 bronze ducks hidden throughout Downtown Huntsville. Convention & Visitors Bureau (CVB) officials announced Sunday that the popular scavenger hunt has added two additional hidden ducks and updated the original clues.
All ducks are permanently affixed around Downtown Huntsville. The Lucky Duck Scavenger Hunt is a free, self-guided, permanent activity and is available 24 hours a day, 7 days a week, year-round. Scavenger hunters can walk the scavenger hunt by parking at the Visitor Center lot on Cleveland Avenue or drive from location to location.
"Scavenger hunters will not only have a blast as they search for each Lucky Duck, but they'll also encounter downtown Huntsville attractions and venues on their journey that perhaps they haven't visited in a while or didn't know about," Huntsville/Madison County CVB President/CEO Judy Ryals said. "We have so many family-friendly activities in downtown Huntsville, and we're excited to continue to showcase many of them on the Lucky Duck Scavenger Hunt."
Officials made the announcement at the start of the Lucky Duck Walk, an official Healthy Huntsville activity and part of Huntsville Mayor Tommy Battle's 100 mile walking challenge initiative. The Lucky Duck Walk, held on Sunday, October 25th, brought participants to many of the original 12 hidden ducks on the Lucky Duck Scavenger Hunt.
"The Lucky Duck Scavenger Hunt has become a favorite among visitors and locals," Ryals said. "Even if you've already found all 12 ducks, it's worth giving it another try to see if you can find the new hidden ducks."
Scavenger hunters who discover all 14 ducks are encouraged to return to the Visitor Center, located at 500 Church Street in Downtown Huntsville, to receive a special prize.
Clue cards can be found online at huntsville.org or picked up at the Visitor Center.
The Huntsville/Madison County CVB commissioned the bronze ducks from sculptor Everett Cox, whose studio is located at Lowe Mill ARTs & Entertainment.
The idea for the Lucky Duck Scavenger Hunt emerged from a 2011 community trip to Greenville, SC, where city leaders learned more about how Greenville has grown and enhanced its own downtown area. Greenville's "Mice on Main" scavenger hunt inspired what has become Huntsville's Lucky Duck Scavenger Hunt.
The Lucky Duck Scavenger Hunt came about thanks to a wide array of community partners. Special thanks to the City of Huntsville, Everett Cox, Scott Averbuch, the Huntsville Museum of Art, EarlyWorks Family of Museums, the Board of Directors of Harrison Brothers, Doug Smith at A.M. Booth's Lumberyard and the Board of Directors at Weeden House.
For more information, contact CVB Marketing Manager Jessica Carlton at jessica(at)huntsville(dot)org or 256.551.2294.
About Huntsville/Madison County CVB
The Huntsville/Madison County Convention & Visitors Bureau (CVB) is a non-profit 501(c)(6) organization which was developed in 1970 to create economic growth for Huntsville/Madison County by marketing the community as a top-of-mind convention and visitor destination. As the official city/county agency which promotes the area as a tourist destination and convention site, the CVB partners with an array of hospitality industry partners to market our destination to visitors of all types.