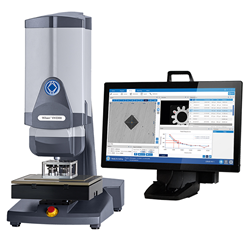 The Wilson VH3300 is a fully automatic Vickers/Knoop hardness test system capable of meeting virtually any requirement in the area of automated micro hardness testing.
Lake Bluff, Illinois (PRWEB) October 27, 2015
Buehler is introducing the new Wilson VH3300 Vickers/ Knoop hardness test system at the Quality Show in Rosemont, Illinois October 27-29, 2015. Complementing the proven Wilson VH3100 system, the Wilson VH3300 expands the range of automatic Vickers/Knoop hardness testers from Buehler with a solution tailored to measurements with very high and/or very low test loads. Hardness testing demonstrations with the VH3300 will be occurring daily at Buehler's booth #1914.
The new VH3300 model with its extensive variety of scales and magnifications excels through maximum flexibility for automated hardness testing to ASTM and ISO in the test laboratory, in materials and product development, in clean production environments and in routine quality control. It is ideal for more advanced heat treatment processes like the aerospace, energy, construction and transportation industries that require hardness testing systems to be durable while maintaining precise control during critical test data generation.
The VH3300 is equipped with the patent-pending collision protection technology, a high-speed sample stage and the DiaMet™ universal testing software. The Wilson VH3300 Vickers/ Knoop hardness test system features a 6-position test head with up to three indenters and three zoom objectives, an automated X/Y sample stage available in two sizes (180 mm x 180 mm as standard) and a powerful image analysis system. A wide range of test loads from 5 g to 60 kg (depending on configuration) renders the sturdy system suitable for a wide variety of applications. A purpose-designed collision protection system helps to avoid accidental damage to the indenters and objectives due to operator errors. The VH3300 hardness testing system provides the ultimate high capacity testing platform capable of performing 150 make and measure indents an hour using the fully automated test program.
A high-resolution digital camera and long working distance objectives, in combination with innovative, calibrated digital zooming capability, provide up to 2000x magnification. The entire system is controlled through the DiaMet™ hardness automation software, including setting of test parameters, automated indentation and measuring, acquisition of test data, statistical analysis, data export, and a range of other functions speeding up the test procedure and ensuring high-accuracy acquisition and analysis of test data.
Wilson Hardness Product Manager Marcel van Banning explains, "We have created the new Wilson VH3300 into a top-notch product in terms of precision, repetition accuracy and user friendliness. This fully automatic Vickers/Knoop hardness test system is capable of meeting virtually any requirement in the area of automated micro hardness testing. This is an example of how Buehler is committed to innovation based on customer feedback."
A detailed brochure is available on the VH3300 or to obtain a price quote email info(at)buehler(dot)com or contact Buehler at 1-800-BUEHLER. Buehler is a leading provider of materials preparation, materials testing and material analysis solutions worldwide.
About Buehler
Buehler has been a leading manufacturer of scientific equipment, supplies and accessories for use in metallography and materials analysis for more than 75 years, and also offers a broad range of hardness testers and hardness testing systems. A close-knit network of branch offices and dealers provides customers with expert support and service around the globe. Buehler is part of the Test and Measurement Group of the US based Illinois Tool Works (ITW) group of companies with more than 850 distributed business units in 52 countries worldwide and a staff of approximately 60,000. For additional information visit http://www.buehler.com.