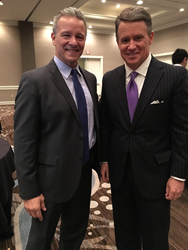 Sandy Springs, GA (PRWEB) October 28, 2015
Mercedes-Benz is moving its U.S. headquarters to Sandy Springs, Ga., from New Jersey starting this year. Speaking recently to an audience of about 300 auto industry representatives and other businesspeople at a Sandy Springs/Perimeter Chamber of Commerce event, Cannon said the move mirrors the migration of customer buying power to Sunbelt states.
In terms of his company's "transformation," Cannon noted the development of the CLA- and GLA-class to bring Mercedes prices within reach of middle class and millennial buyers. The only danger in making a Mercedes more accessible is "when the product you put on the market doesn't meet the brand promise," which he vowed will not happen.
As for Mercedes-Benz employees and dealers, the new headquarters complex will embrace a no-cubicles, town hall theme. Dealership employees are getting their first chance to actually drive a Mercedes under a new program so they can represent the cars more effectively to customers.
During the Q-A style discussion, Cannon fielded questions about his background and Mercedes-Benz's business plans from Jim Fitzpatrick, president and CEO of Atlanta-based CBT Automotive Network. His company was a corporate co-sponsor of Cannon's appearance and also will host an important new car dealership event, the CBT Automotive Sales, Service and Marketing Conference & Expo (http://www.cbtconferenceandexpo.com) in Atlanta Feb. 9-11.
"Atlanta has become a critical marketplace for the auto industry and its dealerships, as evidenced by Mercedes-Benz and Porsche moving their U.S. headquarters here, our conference, our vibrant dealerships and numerous successful vendors," Fitzgerald said.
Atlanta-based CBT Automotive Network is an online and print media news source dedicated to providing the retail automotive industry with news and analysis, best management practices and training. The company offers separate web portals targeting new car dealership personnel, CBT News (http://www.cbtnews.com) and dealership service department managers, Service Drive Today (http://www.servicedrivetoday.com). It also publishes two monthly trade magazines, Car Biz Today and Service Drive Magazine.