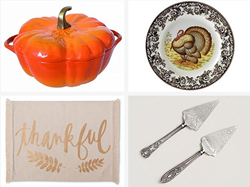 Gift ideas are one of our most popular features
Chicago, IL (PRWEB) October 29, 2015
Elfster.com, the top-rated Secret Santa generator, is proud to announce a large expansion in their gifts guide offering, with over 100 custom gift guides geared toward popular interests and personality types. Currently, the site is featuring guides with ideas for both Halloween and Thanksgiving, in addition to host and hostess gifts.
Elfster.com identifies trending gifts through their extensive partnerships with merchandise companies as well as through their own in-house merchandising team, all with the goal of consolidating and presenting top trends and gift ideas to customers while preserving user privacy.
Because Elfster.com has extensive partner relationships with merchandise companies, the company can identify trending gifts as well as generate nifty gift idea lists for persons looking for gift ideas, all while preserving user privacy.
"Gift ideas are one of our most popular features," explained Peter Imburg, CEO of Elfster.com. "Our innovative technology not only helps people set up Secret Santa gift exchanges, but can even help people brainstorm gift ideas for nearly anyone on their Christmas or holiday gift list."
To view​ ​ all of their gift guides and ideas, visit http://www.elfster.com/wish/. From fashion to holiday decorations, housewarming gifts to baby shower ideas, electronics to sporting goods, gift-givers can expect to find a great gift idea for anyone or any occasion.
Gift Ideas and Elfster.com Technology
Elfster.com is the Web's top-rated online Secret Santa generator.
​Friends, f​amily members and office ​mates ​can set up Secret Santa exchanges quickly, easily and at no cost at Elfster.com. ​ And once a gift-giver is on Elfster, they are usually surprised and delighted by the quantity and quality of their gift guides. Of course they cover all the basics including ​gift ideas for men, women, children and babies, gifts for holidays such Christmas and Hanukkah and gifts for key occasions such as housewarming, hostess, and baby shower gifts. They also offer the usual gifts by category including electronics, books, beauty or toys.
About Elfster.com
Elfster is the Web's top-rated online Secret Santa generator. Participants use the company's tool to organize a holiday gift exchange of any type, ​ across any group including friends, family or office mates. When they register, users can learn the Secret Santa rules and keep track of all of their exchange details online, from the exchange date to the dollar amount allotted for gifts .
Elfster makes it easy, free, and fun!