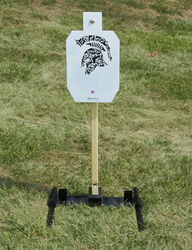 Tactical Sh*t has teamed up with Custom Metal Products to produce a portable steel target that every shooter wants.
St. Charles, Mo (PRWEB) October 30, 2015
The 2/3 IDPA Torso is a smaller version of the full size IDPA torso. The target is made from 3/8 inch thick AR500 hardened steel for extreme long life and excellent impact resistance.
The stand can be used with a 2x4 for the included steel target, or a pair of 1x2's for a paper target. The legs of the stand are adjustable for uneven ground.
Once the steel target is mounted to the upper cup with a Grade 8 hardened carriage bolt and locknut, no tools are necessary to assemble or disassemble the stand for transport. Simply remove or replace the 2x4 for easy setup or takedown.