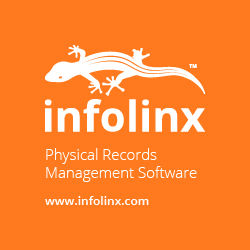 Kensington, MD (PRWEB) November 10, 2015
Infolinx System Solutions™, a leading provider of enterprise physical records management software, announced the upgrade from version 3.2 to 3.4 of Infolinx WEB by the Missouri Records Management Division (MRMD). The Infolinx WEB enterprise solution, re-branded as the State of Missouri Agency Records Tracking (SMART) system, manages records created in more than 30 departments, 300 divisions, and 600 sections throughout the state.
Housed on more than 100,000 shelves within the James C Kirkpatrick State Information Center (KSIC) and other annexes, MRMD manages approximately one half million boxes, one quarter million rolls of microfilm, and more than two million files, all classified within a retention schedule containing more than 9,000 individual records series.
An Infolinx client since 2008, this latest upgrade for MRMD includes: browser-agnostic functionality supporting IE, Edge, Chrome, Firefox, and Safari browsers; advanced support for Retention and Legal Holds; warehouse space management functionality indicating available space and suggested new accessions locations; and management of agency electronic records falling under the purview of MRMD.
About Infolinx®
Infolinx System Solutions is a leading provider of DoD5015.2-certified enterprise physical records management software. Full life-cycle records management for archives, records centers, and file rooms includes integrated Enterprise Content Management, third-party warehouse integration, robust searching, online requesting, complete audit history, location reconciliation, supply item ordering, retention schedule and legal holds management, integrated RFID technology, space management with charge-back functionality, extensive reporting capability, advanced security configuration, workflow email notifications, and legacy data sharing. Available as an on-premises or cloud-based solution, Infolinx maintains clients within all major business segments and the public sector. Infolinx System Solutions Demo.