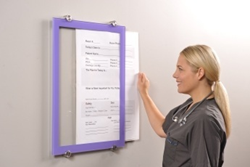 "This is the best new product in the business. We have had the best feedback you could imagine."
Elk Grove Village, IL (PRWEB) November 12, 2015
The Switchboard, created by GlassWhiteboard.com, provides a slide-out panel that allows for customizing templates to make sure all doctors, nurses, technicians and family members can clearly see all vital information, including instructions and warnings, for individual patients.
The best feature of the Switchboard is that the panel is changeable so hospital personnel are not stuck with a one-size-fits-all template with information on their form not pertinent to their department. The template can be altered for different hospital departments or changed whenever new hospital requirements or procedures mandate. Just have new templates printed, slide the new panels into the posted Switchboards and customized, universal patient information forms are in place. It's that easy.
"This is the perfect solution to many of the issues a regular board brings," said Ken Johnson, co-owner of GlassWhiteboard.com. "This is the best new product in the business. We have had the best feedback you could imagine."
The board is virtually maintenance-free and the glass surface will never "ghost" or stain. Sizes and borders can be customized to work in any hospital setting. The Switchboard uses a standard dry erase pen.
"It has a sophisticated style and versatility," said David Supera, co-owner of Glass Whiteboard.com. "It is the perfect hospital patient room dry erase board. It is very practical and state of the art."
More information on the Switchboard can be found at http://www.glasswhiteboard.com/hospital-patient-glass-whiteboard/
For purchasing information, call Glass Whiteboard.com at (877) 793-1011 or email info(at)glasswhiteboard(dot)com.