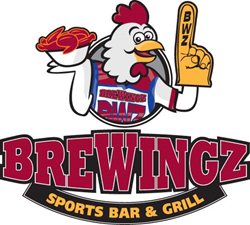 BreWingZ Vice President Robert Snelson said, "We're honored to be included in these efforts for Christopher.
Houston, TX (PRWEB) October 30, 2015
BreWingZ Sports Bar & Grill is honored to help Kids Wish Network grant the wish of an extraordinary young man, Christopher; a fun-loving and playful 16-year-old. "Christopher finds joy in the little things in life. He loves to dance, do puzzles and go down slides. He smiles often, despite facing life-threatening issues as a result of multiple medical conditions," his mother explains. Diagnosed at birth with Down Syndrome, doctors immediately discovered Christopher had a concerning hole in his heart. Rather than subject the infant to invasive and dangerous heart surgery, doctors decided to watch it closely. For two years, doctors monitored Christopher's heart, and eventually the hole closed itself. However, Christopher still faced issues from his Down Syndrome and was also diagnosed with severe asthma. If he caught even a minor respiratory illness, the situation could quickly turn tragic. He needed nebulizer treatments four times a day.
Christopher's wish is to have a new backyard play-set of his own. Christopher will get his wish because of the generosity of Kids Wish Network and Home Depot. Kids Wish Network is an international charitable organization dedicated to infusing hope, creating happy memories, and improving the quality of life for children having experienced life-altering situations. Kids Wish Network assists children and their families through several key programs. Home Depot will be building a play-set for Christopher with Kids Wish Network.  Brewingz provided a bountiful spread of food for Chris, his family, and workers of Home Depot at the reveal of his new playground! The reveal happen ed October 29th, 2015 in the backyard of his Houston home. BrewingZ looks forward to increasing the joy and happiness of this great young man, and feeding the hardworking men and women involved in this project.
BreWingZ Vice President Robert Snelson said, "We're honored to be included in these efforts for Christopher. BreWingZ team members work and live in the same neighborhoods as our Houston restaurants, and we're always seeking opportunities to strengthen our community relationships." Houston-based BreWingZ Sports Bar & Grill is quickly expanding its operations with additional Texas locations in the coming months. To find a BreWingZ location near you, visit the website http://www.BreWingZ.com and see what's new with your BreWingZ neighborhood location.
###