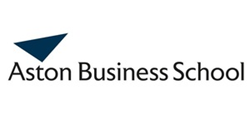 Marketing has evolved; customer experience is now the most important aspect.
Coventry (PRWEB UK) 2 November 2015
On the 3rd of November, Yiannis Maos, Head of Digital will be speaking at Aston Business School as part of their Aston Aspires Week; a week designed to enhance students' professional development and give them a head start in the job market.
His session is called, "The Customer Experience" and will reveal how enriching customer information with emotion can lead to enhanced marketing, operations, customer service and an overall better experience for all customers. As well as this, Yiannis will be speaking about how he has developed his career and the challenges young marketers are likely to face.
"Marketing has evolved; customer experience is now the most important aspect. I believe that understanding a customer's emotion in real-time can create a Sentiment Driven Business, an organisation that operates with the customer firmly at the heart of their business. Marketers who understand this will be the ones that go on to succeed in this ever-changing landscape."
To attend this event please register at:
http://www.eventbrite.co.uk/e/the-customer-experience-abs-event-but-open-to-all-tickets-19114339504
About Rant & Rave
Rant & Rave provides customer engagement solutions with a difference.
Created with the belief that fundamentally brands and consumers want the same thing – to deliver and receive great service – half of the FTSE rely on the Rant & Rave platform to proactively communicate with and gather fast feedback from their customers.
By reducing customer effort and taking real-time inspired action, brands are able to transform Ranters into Ravers and happy customers into engaged Ravers – lifelong advocates.
About Aston University
Founded in 1895 and a University since 1966, Aston is a long established research-led University known for its world-class teaching quality and strong links to industry, government and commerce. Professor Dame Julia King became Vice-Chancellor of the University in 2006.
Aston is a leading university for graduate employment success, ranking consistently in the top 10 for employability for the last 20 years. The University is consistently ranked in the UK's top 40 universities confirming our place amongst the elite.
Aston's four Schools offer a range of undergraduate and postgraduate degree programmes, and also work with the public and private sectors to develop tailored Foundation Degree programmes.
Aston University is based in the centre of Birmingham, home to over 65,000 students and one of Europe's liveliest and most welcoming cities.