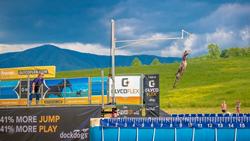 "We quickly came to realize that dockdogs® people are our people. We are extremely excited to be a part of the Dockdogs World Championship this year" ~ Adrienne B, Assistand Brand Manager, VetriScience Laboratories
Essex Junction, VT (PRWEB) November 06, 2015
VetriScience® Laboratories, the makers of Glyco Flex® hip and joint support, will be launching a new sponsorship program for DockDogs® competitors at the DockDogs® World Championship competition later this month.
Team Glyco Flex® spent the summer spreading the word about the importance of hip and joint health in dogs and cats while watching some amazing competitions and even more amazing pet loving families. The DockDogs® World Championships in Dubuque, Iowa is the culmination of all of the training and work that these dogs and their families have done over the year. Glyco Flex® is excited to be hosting a welcome party at the Five Flags Center Wednesday November 11th for all contestants and, will be launching a new sponsorship program for the 2016 jumping season.
As the pioneer in pet health products and joint supplements for dogs and the premier canine aquatics competition respectively, Glyco FLEX® and DockDogs® have formed a natural partnership. Glyco FLEX® already sponsors several individual DockDogs® teams and with a commitment to DockDogs® for the 2016 season, Glyco FLEX® is taking its sponsorship and participation to the next level.
VetriScience® Assistant Brand Manager and Sponsorship Coordinator, Adrienne Bombard, confirmed that VetriScience® will be sponsoring a dock again for the 2016 season. "We quickly came to realize that dockdogs® people are our people. The commitment shown by these pet owners to the health and wellbeing of their animals inspires us and encourages us to keep providing naturally safe and effective alternatives for supporting animal health and longevity. VetriScience® is thrilled to be a part of this year's World Championship events. We are big believers in the idea that every pup deserves a life full of motion and activity. The DockDogs® / Glyco Flex® partnership perfectly represents that belief."
Glyco FLEX® is recommended for working dogs, senior dogs, active dogs—and any dog in need of advanced joint support. It is formulated to alleviate joint discomfort, support mobility, and address the wear and tear of everyday activity, helping DockDogs® of every size stay on the circuit.
Learn more about Glyco FLEX® here: http://www.glycoflex.com
About DockDogs®
DockDogs® is the independent governing and sanctioning body for regional, national and international canine aquatic performance sports. DockDogs® establishes the rules and standards of the sport, tracks results and records and supports and promotes the growth of its athletes, events, spectators, and sponsors. For additional information visit http://www.dockdogs.com or check us out on Facebook at facebook.com/officialdockdogs.