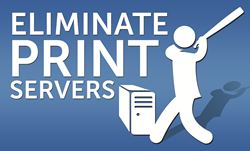 PrinterLogic's success is a perfect example of what happens when Utah's talent is unleashed.
Saint George, Utah (PRWEB) November 05, 2015
PrinterLogic, the leading Enterprise Print Management solution, was ranked the 18th 2015 fastest growing company in Utah by MountainWest Capital Network (MWCN) at the 21st annual Utah 100 Awards Program Tuesday. The annual program recognizes the 100 fastest growing Utah companies, the Top Revenue Growth companies, and the "Emerging Elite" companies.
"It's an honor to be named to the Utah 100 Fastest Growing Companies," said Ryan Wedig, President and CEO of PrinterLogic. "I've always believed that Utah has the strongest talent pool in the nation, we've just been a little isolated. Now that technology enables the world to access our talent and our companies' to engage on a global scale we are seeing the results. PrinterLogic's success is a perfect example of what happens when Utah's talent is unleashed."
The 100 fastest growing companies in Utah are selected from thousands of eligible applicants throughout the state and represent a cross-section from all industries.
"It is clear Utah is one of the hottest places in the country to start or run a business," said Paul Skeen, chairman of the MWCN Utah 100 committee. "As a strong indicator, we had a record number of Utah companies vying for the 100 fastest growing companies in Utah along with about a 400 percent increase in the number of Emerging Elite nominations. It is a pleasure to recognize this year's Emerging Elite companies along with the Utah 100 fastest growing companies."
The percentage of revenue increase of each company between 2010 and 2014 determines the Utah 100. Those companies with the largest dollar amount of revenue growth in 2014 make up the Revenue Growth winners. The Emerging Elite are selected from among companies with less than five, but more than two years of operation that show significant promise for future success.
About PrinterLogic
PrinterLogic is the world's leading Enterprise Print Management solution for server-less remote site printer deployments. With more than 1,500 customers in over 120 countries, PrinterLogic enables organizations of all sizes to eliminate print servers. PrinterLogic's single integrated printer management platform is an on-premises web application that simplifies the management, migration, and deployment of printers while drastically reducing cost. For more information, or for a free trial, please visit http://www.printerlogic.com. Questions? Watch our video or connect with us on Twitter at @PrinterLogic or follow us on Facebook, LinkedIn, YouTube, Instagram and Google+.
About MountainWest Capital Network
MountainWest Capital Network is Utah's first and largest business networking organization devoted to supporting entrepreneurial success, and dedicated to the flow of financial, entrepreneurial and intellectual capital. For more information, visit http://www.mwcn.org, LIKE us on Facebook and follow us on Twitter @MWCN and LinkedIn.