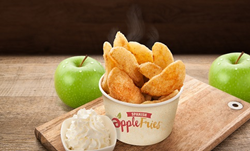 When you first bite into a crunchy wedge, you get a burst of juicy apple flavour!
Sydney, Australia (PRWEB) November 24, 2015
Everybody's thinking it: they look like wedges with sour cream, don't they? But surprisingly it's not potato, and no, that's not sour cream either!
Introducing Spanish Apple Fries, the brainchild of Michael Aldemir, Director of the Spanish Doughnuts franchise group.
Why Spanish Apple Fries?
"We wanted something totally different," Aldemir says. "I jokingly say I was lying under an orange tree and an apple fell and hit me on the head and hence Spanish Apple Fries was born."
An apple falling from an orange tree? That's like comparing apples and … potatoes. And it's this having fun with ideas that is part of the inspiration behind the fries.
"We thought the name Spanish Apple Fries had a nice ring to it," Aldemir says. "France isn't really known for potatoes, so why are they called French fries? We just played on that idea and thought, let's call it something really different so when people see it, their response will be 'hang on a minute, it says "fries" but they're actually wedges'. We're playing with people's minds a bit; we wanted to have a bit of fun. And so far, it's worked."
A delicious, fruity sweet treat
A first on the Australian market, Spanish Apple Fries are sweet, crispy apples peeled, sliced and coated in cinnamon sugar, then cooked in cholesterol free oil. Apple Fries can also be enjoyed served with whipped cream or ice cream.
Already on sale at Spanish Doughnuts stores across Australia, Spanish Apple Fries are proving popular among families, kids – and people of all ages, really!
With the first bite into a crunchy wedge, you get a burst of juicy apple flavour, with all its freshness and goodness. Aldemir has also noticed the taste brings back fond memories for some people. "They say it reminds them of when they were young and their grandparents used to make treats like this," he says.
"We know people are going to fall in love with Spanish Apple Fries! We always dare people just to have one and no one's been able to have one and walk away."
For interviews and further information, contact: Michael Aldemir on mobile: 0403 329 145 or email: michael(at)spanishdoughnuts(dot)com(dot)au. Visit http://www.spanishapplefries.com.au or their Facebook page: https://www.facebook.com/spanishdoughnuts