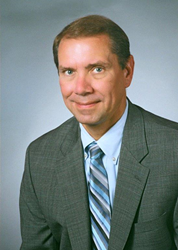 (Don's) record of success will enable us to build on the strong position we have in the market and to continue to transform healthcare in the Mahoning Valley.
YOUNGSTOWN, OH (PRWEB) November 07, 2015
Donald Kline has been named to the position of president and chief executive officer Mercy Health - Youngstown, formerly Humility of Mary Health Partners. In his role, he will be responsible for the operations and growth of the market that includes three Northeast Ohio hospitals, nearly 40 ambulatory sites and a 105-member employed physician group. He will assume the position from Bob Shroder, who is retiring from Mercy Health in February after more than 19 years of service. Don will transition to Youngstown in January and assume his new position effective Feb. 21, 2016.
Don most recently served as chief financial officer, markets, serving all seven Mercy Health markets by providing strategic and operational support to the market presidents and their senior teams. In his role, Don was instrumental in providing leadership for operations, and enhancing integration between system and markets, including serving as interim chief operating officer for the Cincinnati Region, co-chairing the operations advisory committee and contributing as a member of the Lead the Ministry operations committee.
"Don brings a wealth of experience in leading strategy, operations and finance, and has a solid knowledge of the Youngstown market," said Brian Smith, executive vice president, operations for Mercy Health's Northern Ohio markets including Lima, Toledo, Lorain and Youngstown. "His collegial leadership style, business acumen and physician relations skills will move us forward in changing our care and operating models to enhance quality and provide value to our patients, payors and community."
Added Mercy Health - Youngstown Board Chair Betty Jo Licata, "Don is well known and respected by physicians and leaders in the Youngstown area. His record of success will enable us to build on the strong position we have in the market and to continue to transform healthcare in the Mahoning Valley. We look forward to working with Don to advance the mission of the ministry and serve the healthcare needs of the region."
Don has more than 28 years of healthcare experience, eight of which are with Mercy Health. He began his career in the organization as divisional chief financial officer for the Northern markets. Prior to this, he served as vice president and chief financial officer for Heritage Valley Health System, in Beaver, PA and held similar roles with Trinity Health System in Steubenville, OH and Allegheny University Medical Centers, Pittsburgh. He holds a master's degree in business administration from the University of Pittsburgh and a bachelor's degree in business administration from Duquesne University.
"I am pleased and honored to lead and work with Mercy employees and physicians in Youngstown to enhance our mission of improving the health of our community," said Don. "I am confident in our ability to strengthen our presence in the market and meet the changing needs of our community. My goal is to enhance the nimbleness of our organization to respond to the continued changes in the healthcare industry and empower employees, leaders and physicians to enhance our culture of service and quality for which Mercy Health is known."
About Mercy Health Youngstown
Mercy Health Youngstown, formerly Humility of Mary Health Partners, is an integrated health system in the Mahoning Valley, which encompasses the Youngstown/Warren metropolitan area – Mahoning, Trumbull and Columbiana counties in Ohio. It is part of Mercy Health, which is headquartered in Cincinnati and is the largest health system in Ohio and one of the largest Catholic health systems in the United States. Mercy Health Youngstown provides a full spectrum of health care services – acute inpatient and trauma, outpatient and ambulatory, rehabilitation, behavioral, emergency and urgent care, primary care physicians in patient-centered medical homes, specialist physician care, home health, home medical equipment, long-term care and hospice care, as well as Mercy Health Foundation Mahoning Valley. Learn more at http://www.mercy.com/Youngstown.