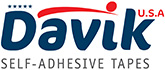 "Applying our handles reduces the use of plastic bags, reduces breakage and assists customers in carrying their purchases. The handles are fully customizable so you can print your company name or logo on our products to promote brand awareness."
Everetts, NC (PRWEB) November 05, 2015
Davik USA, a world-renowned manufacturer of pressure sensitive self-adhesive tapes, recently launched its new Grab 'n Go Carry Handles™ at PACK EXPO 2015. The convenient handles make lifting and transporting consumer packages a breeze, and offer an environmentally-friendly and cost effective product to increase sales and reduce costs.
Popular in Europe for many years, the Davik USA Grab 'n Go Carry Handles™ is easy to use on those heavy items like water bottle trays/packs, paper products and grocery items, and can even be used in industrial settings to transport items up to 40 lbs. This video http://davikusa.com/# shows just how easy it is. The Davik USA Grab n' Go Carry Handle™ can also be used for automated applications in a production environment.
"At Davik USA, we are committed to manufacturing top-quality products that make our everyday lives easier," said Barak Ranon, President and CEO. "Applying our handles reduces the use of plastic bags, reduces breakage and assists customers in carrying their purchases. The handles are fully customizable so you can print your company name or logo on our products to promote brand awareness."
The David USA Grab 'n Go Carry Handle™ is proudly produced in Everetts, North Carolina with distribution centers throughout North America and Mexico. For more information about Davik USA and its products, please contact Steven Hunter at (518) 925-7376 or shunter(at)davikusa(dot)com
About Davik
Davik is a world-renowned manufacturer of pressure sensitive self-adhesive tapes, with coating and slitting facilities that produces a wide range of standard and custom made tapes. Established in 1983, Davik is a private company fully owned by Kibbutz Sde Boker Israel. At Davik, we see our customers as our partners and friends. We have long-lasting business relationships, some for more than 20 years. We truly appreciate our customers' trust in our products and service. Over the years, we have developed unique adhesive formulations. In fact, Davik is one of the first names in printable tapes and carry handles. With our emphasis on R&D, we continually upgrade our technology, materials, and know-how to keep pace with changes in the industry http://daviktapes.com/
About Davik USA
Recognizing the value in handling and convenience of packages, Davik established a division dedicated to the North American market, Davik USA, to focus specifically on adhesive taped handles. Davik USA is committed to working together with our customers and strategic partners in finding solutions to their packaging needs. Products are made in North Carolina with distribution centers located throughout North America.
Visit us at http://www.davikusa.com.