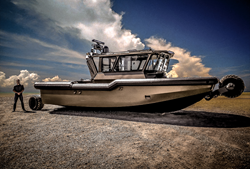 "The U.S. Marine Corps has spent more than $3.5 billion over 25 years to develop the Amphibious Assault Vehicle (AAV), but the AAV has a top speed of only 8 MPH on the water. The RC36 stands ready to bridge this gap as a high-speed surface connector."
Boston, MA (PRWEB) November 10, 2015
ReconCraft, a Veteran-Owned boat design and manufacturing firm founded in 2008, has released the world's first large format High-Speed Amphibious Interceptor Craft (HSAIC) for military and commercial use. Known as the RC36, the planing-hull craft can reach speeds of 45 MPH on water and drive on rugged and undeveloped land at speeds up to 10 MPH. This multi-mission amphibious vessel fills a huge capability gap and is ideally suited for military and professional use.
The RC36 is equipped to carry a driver, navigator, vehicle commander, and up to 10 combat-loaded troops. It features a proprietary modular deck loading system that allows the RC36 to carry a variety of mission-specific payloads ranging from dive operations to oil spill response to search and rescue (SAR).
Other features include a retractable radar arch and an enclosed cabin that can be removed in less than 60 minutes to allow the RC36 to quickly transition from a coastal environment to riverine operations and natural disaster zones where low overhead obstructions pose accessibility challenges.
"ReconCraft vessels are well known for their rugged hull systems and ergonomic configurations that improve service life and reduce operational risk. The Sealegs AES-100 capabilities offer huge benefits to military and professional operators including expediting response operations, facilitating safer troop insertion/extraction, and reducing crew fatigue by allowing the RC36 and crew to loiter on land instead of on the water. The applications are worldwide and we see a lot of opportunity for the AES-100, as well as the smaller AES-60 system, to significantly enhance our clients' operational capabilities," said ReconCraft co-founder and RC36 Program Manager Joe Silkowski, who oversaw the Sealegs AES-100 integration.
The current 36-foot model boasts twin Mercury TDI 370 HP turbo-diesel engines, ZF marine gears, and Hamilton water-jet propulsion that allow the vessel to patrol in waters as shallow as 18" before requiring "legs-down" operations. Sealegs' proprietary Aqua-Air™ technology provides 7,500 lbs-ft of torque to the amphibious system and gives the RC36 more than 350 miles of range on land.
"Integrating the Amphibious Enablement System-100 developed by Sealegs with our successful and proven family of offshore and riverine vessels, the RC36 leverages the best of both companies and provides military and professional operators with completely new capabilities," says Jay Hoflich, ReconCraft's Chief Executive Officer. "The U.S. Marine Corps has spent more than $3.5 billion over 25 years to develop the Amphibious Assault Vehicle (AAV), but the AAV has a top speed of only 8 MPH on the water. The RC36 stands ready to bridge this gap as a high-speed surface connector."
The RC36 will be featured at the annual Workboat Show in New Orleans, LA from Dec 1-3, with a limited number of appointment slots. To make an appointment or schedule operational testing and evaluation, please contact ReconCraft's government/commercial division at +1 877 645-7761, Monday-Friday, 8 AM – 5PM (Eastern), or at govsales(at)reconcraft(dot)com. ReconCraft vessels are available on GSA contract #GS-07F-216A.
Background Information on ReconCraft
ReconCraft designs, develops, and manufactures multi-mission coastal and riverine vessels of up to 60' feet for military, law enforcement, and commercial use. ReconCraft was selected in Marine News' 2015 Top-100 among marine companies worldwide, awarded the 2014 Veteran-Owned Small Business of the Year for New England by the SBA, and ranked at #205 among Inc. Magazine's Fastest Growing Companies in 2013. ReconCraft is a Service-Disabled Veteran-Owned Small Business and an Indian-Owned Economic Enterprise.
CONTACT INFORMATION:
Joe Silkowski
RC36-SLG Program Manager
+1 877 645 7761
govsales(at)reconcraft(dot)com
IMAGES
For a full media package including high-resolution photos and videos, please link to: http://www.reconcraft.com/RC36