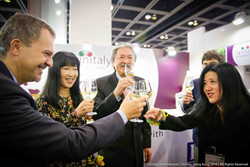 This is the first time that we are witnessing the tangible desire of Hong Kong's government to simplify wine trade between Hong Kong and Greater China
(PRWEB) November 07, 2015
Hong Kong looks to the future in Asia Pacific and Greater China as confirmed by the Minister of Finances, John C. Tsang, on the occasion of the 8th edition of the Hong Kong International Wine & Spirits Fair (5 – 7 November), where Vinitaly represented Italian wine with 135 wineries, 800 labels, and 13 masterclasses, including 5 Vinitaly International Academy Executive Wine Seminars held by Doctor Ian D'Agata.
During the event Minister Tsang officially announced the launch of the Instant Clearance Act, a measure which will allow Hong Kong distributors to obtain customs clearance for wine in Greater China in a shorter amount of time: three working days for wines that are already distributed in China, and less than seven days for those that are not yet represented in the Country. Five ports will be affected by this measure: Guangzhou, Shenzhen, Beijing, Shanghai and Tianjin.
Besides confirming its vocation as the wine hub in Southeast Asia and Asia Pacific, Hong Kong does not want to be cut off from the procedures started by China's President, Xi Jinping.
"This is our sixth edition at HKTDC and perhaps this is the first time that we are witnessing the tangible desire of Hong Kong's government to simplify wine trade between Hong Kong and Greater China", says Stevie Kim, Managing Director of Vinitaly International. "We still have to understand the procedures. This act is not measurable in terms of economic advantages, but in terms of time it's very significant. In the meantime, as Vinitaly, we can indicate to Italian winemakers the Government's website so that they can upgrade their procedures."
Hong Kong remains today a very important wine market for Italian wine producers acting as a fast track to Mainland China thanks to the removal, back in February 2008, of all duty-related customs and administrative controls. As a consequence, Hong Kong's wine imports have expanded fast in the last few years registering a +5.1% rebound in 2014 for a total value of €984 million (source: HKTDC, 27 February 2015, http://tinyurl.com/o7tndho).
In particular, the Italian wine market share in 2014 was 1,5% of imported wine and between January and July 2015 it registered a further, though small, rise (Source: Istat). These market studies confirm the fact that Italy has both the numbers and the variety to attract the attention of Hong Kong consumers, as long as it offers them the tools to appreciate and understand the great diversity of the Italian wine scenario.
Italy needs greater unity and to form a relevant critical mass. This the message that was sent out by Antonello De Riu, Italian Consul General in Hong Kong, who was present at the Opening Ceremony of Vinitaly Hong Kong: "We have to learn from our main European competitors in order to present ourselves in a unique way and, above all, to create a critical mass", says De Riu. "I want to send out an appeal to our wine producers: I perfectly understand that Italian wine is a jewel, perhaps a chest with many secret treasures. But in order to penetrate China, Hong Kong and Southeast Asia we need to be recognisable and present ourselves as a unified country. Otherwise it's very hard to keep going."
INSTANT CLEARANCE WEBSITE: http://www.tid.gov.hk/english/import_export/nontextiles/wine/wine042015.html
About:
Veronafiere is the leading organizer of trade shows in Italy including Vinitaly (http://www.vinitaly.com), the largest wine and spirits fair in the world. During its 49th edition Vinitaly counted some 4.000 exhibitors on a 100.000 square meter area and 150.000 visitors including more than 2.600 journalists from 46 different countries. The next edition of the fair will take place on 10 - 13 April 2016.
The premier event to Vinitaly, OperaWine (http://www.vinitalyinternational.com) "Finest Italian Wines: 100 Great Producers," will unite international wine professionals on April 9th in the heart of Verona, offering them the unique opportunity to discover and taste the wines of the 100 Best Italian Producers, as selected by Wine Spectator. Since 1998 Vinitaly International travels to several countries such as Russia, China, USA and Hong Kong thanks to its strategic arm abroad, Vinitaly International. In February 2014 Vinitaly International launched an educational project, the Vinitaly International Academy (VIA) with the aim of divulging and broadcasting the excellence and diversity of Italian wine around the globe. VIA has now also created its very first Certification Course with the aim of creating new Ambassadors of Italian Wine in the World.